Tonganoxie football holds on for 23-14 victory against Spring Hill, spoils opening night of new stadium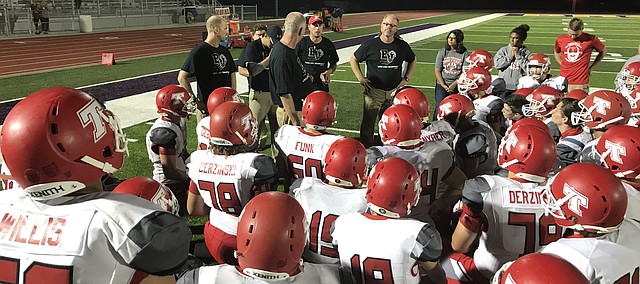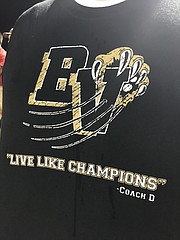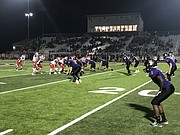 Spring Hill — Tonganoxie High spoiled Spring Hill's christening of a new football stadium Friday in a game that went from apparent shootout to a matter of field position.
The Chieftains trailed just once on their way to a 23-14 season-opening victory, but it was a grudge match much of the game.
THS got on the board first with a Bowan Jones 23-yard field goal early in the first quarter.
Spring Hill answered with a touchdown before Tonganoxie's response made it 10-7 on Justin Hand's 1-yard touchdown run and Jones' PAT.
A 23-yard pass from THS senior quarterback Mason Beach to fellow senior Mac Thompson made it 16-7 still in the first quarter. A strange kickoff set up that drive, as the Broncos failed to failed to catch a towering kickoff from Jones. The ball looked as though it was going to meander out of bounds, but it stayed on the field and THS pounced on the ball deep in SHHS territory.
Tonganoxie's next kickoff-after-touchdown looked destined for the same result, but the Broncos were able to nab the ball on that play.
The Broncos responded with another touchdown in the second quarter, leaving Tonganoxie clinging to a 16-14 lead.
Tonganoxie tried to extend its lead with 20 seconds left before halftime. THS was driving and set up for a field goal at the Spring Hill 9-yard-line. Jones' 26-yard attempt, though, appeared to hit the left upright and THS headed into the locker room with the same two-point advantage heading into the locker room.
The third quarter was a chess match, as both teams seemingly played for field position. Each team had its chances, but those drives fizzled with defensive stops. Or, in some Tonganoxie cases, big plays called back by penalties. The Chieftains also made a defensive stand deep in their own territory that energized the THS sideline.
Still in the third quarter, senior offensive lineman Sammy Sigourney suffered a knee injury before Mac Thompson went down with an elbow injury.
Thompson had just intercepted a Bronco pass and was scampering toward Bronco territory when a Spring Hill player took him down hard near midfield on the SHHS sideline. Play resumed after a lengthy delay that ended with Thompson being taken from the field on a stretcher.
Seniors Zac Morgan and Keith Willis had key defensive plays in the fourth quarter, Morgan with an interception and Willis with a sack.
Tonganoxie seemingly sealed the season opener with 5:45 left in the game when Beach found junior wide receiver Drake Pray in the flat. Pray then ran in for a 16-yard touchdown reception. Jones added the PAT.
Spring Hill got a little momentum late in the fourth quarter, but a delayed intentional grounding call helped thwart any Bronco rallies. After a lengthy discussion among the game's four referees, the officiating crew ruled a Spring Hill pass to the sideline was indeed intentional grounding.
Tonganoxie improved to 1-0 with the victory, which ultimately was the key, according to THS coach Al Troyer.
"It's a win," Troyer said.
Troyer said his team squandered some scoring opportunities with some dropped passes and other miscues, but overall was pleased with how his team played.
"We had some first-game jitters," Troyer said.
The most glaring missed opportunity came earlier in the fourth quarter when a big run put Tonganoxie inside the Spring Hill 1.
But the Broncos stuffed THS for a loss on first down before a 5-yard penalty put THS nearly 10 yards away from the goal line. A pass slipped through a Chieftain receivers fingers in the back of the end zone as THS came away empty-handed.
Now 1-0 on the season, Tonganoxie is at home Sept. 8 in a rematch against Eudora (0-1). THS won, 46-40, in overtime last year at Eudora District Stadium in a game that saw five lead changes. Troyer wouldn't mind a less stressful victory this year.
"We don't want that again," Troyer said with a smile.
Eudora will be looking for its first victory of the season after falling 40-14 to Baldwin on Friday at home.
Score by quarters
THS 16 0 0 7 — 23
SHHS 7 7 0 0 — 14