Brownback announces Tyson planning $320M plant near Tonganoxie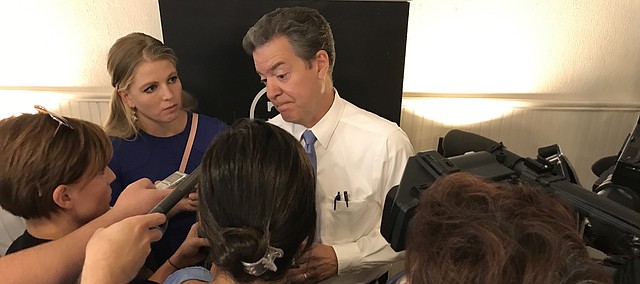 A $320 million poultry complex — the first of its kind to be built in some 20 years — is expected to be up and running in 2019 south of Tognanoxie, Gov. Sam Brownback announced Tuesday in downtown Tonganoxie.
Brownback announced that Tyson Foods, Inc., which already has six plants across the state, plans to build its largest near Tonganoxie.
The governor said the company was "the backbone" of Garden City as that community has grown in recent years.
Tyson's Tonganoxie facility is expected to have a processing plant, hatchery and feed mill south of Tonganoxie on a total of more than 300 acres. The company expects to break ground this fall.
Doug Ramsey, group president of poultry for Tyson, told the capacity crowd Tuesday that a few months ago, he hadn't heard of Tonganoxie, stumbling over the pronunciation initially.
But for Ramsey, based out of Springdale, Ark., he said that's changed.
"Tonganoxie is the center of the Tyson universe today," Ramsey said.
The plant is expected to employ 1,600 people. The other six Kansas plants combined employs 5,700, according to a press release.
Much of the project will take place near 222nd Street and Hemphill Road, with another site at U.S. 24/40 and Honey Creek Road, according a story in the Leavenworth Times. The project won't be far from interstate, as the southern edge would be about a mile north of the Tonganoxie/Eudora interchange.
Speeches at the announcement event brought applause, but it also was met with disapproval.
Some residents held signs outside of the venue against the project and voiced disapproval.
A Facebook group called Citizens of Tonganoxie Against Project Sunset already has 645 members.
During the press conference, while Ramsey was speaking, a spectator said "we don't want it."
Ramsey said there would be town hall meetings scheduled for residents to voice concerns in the future.
The plant is expected to have an annual state economic impact of $150 million.
Local, county and state representative were on hand, as were local econmic development officials and Kansas Department of Agriculture representatives.
Kansas FFA state officers and members of the Tonganoxie and Pleasant Ridge FFA chapters greeted people as they entered the Brunswick Ballroom.