Tonganoxie cross country loses duals to Lansing, prepares for Wamego meet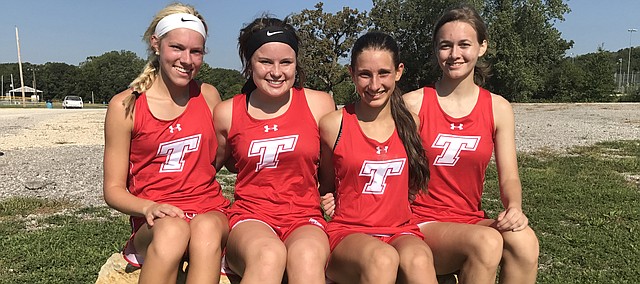 Tonganoxie High cross country opened the season with a dual Saturday against Lansing at the Leavenworth County Fairgrounds in Tonganoxie.
The Lions swept the varsity duals.
On the girls side, Lansing won with the low score of 17 to Tonganoxie's 44. For the boys, it was a similar result, as LHS scored 17 and Tonganoxie 40.
In the girls race, Lansing took the first four spots. Mia Bond was Tonganoxie's top runner in fifth witha time of 21 minutes, 27 seconds. Fellow senior Sierra Staatz wasn't far behind at 21:42.
Erin Williams took ninth with a 22:27 time and Alyssa Scott 11th with a 22:44 time.
For the boys, junior Calvin Morgan placed third with a 17:39 time. Jakob Foley was seventh in 18:16 and Jake Edholm eighth in 18:17. Josh Bosley also finished in the Top 10, taking 10th with an 18:38 time.
The team next competes at 9 a.m. Saturday in Wamego.