Tonganoxie mayor checking on potential conflict of interest with Tyson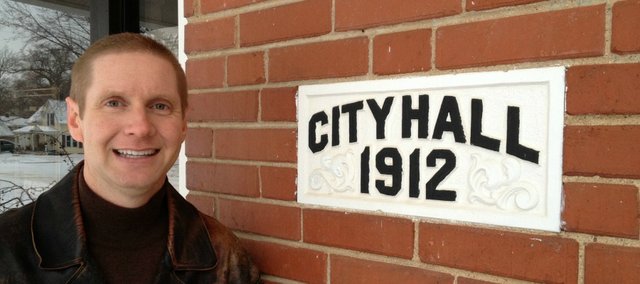 As Tyson Foods seeks more than $1 million from the city of Tonganoxie for a controversial meatpacking plant, the city's mayor has confirmed he works for a law firm that does business with Tyson.
Tonganoxie Mayor Jason Ward said he is now seeking legal advice on whether he has an official conflict of interest that would preclude him from taking part in decisions on Tyson's proposal to build a $325 million chicken processing plant south of Tonganoxie.
Ward is an attorney with the Kansas City law firm of Shook, Hardy & Bacon. Ward confirmed that Tyson is a client of the law firm, but Ward said he had not personally worked on any Tyson cases.
Ward said he has asked the Tonganoxie city attorney to advise him on whether a conflict of interest exists, and he also has asked an attorney with Shook, Hardy & Bacon to weigh in on the matter. He is awaiting those opinions.
"That is something that I am speaking with the general counsel of our firm and our city attorney," Ward said. "At this time, I really can't comment whether I feel it's a conflict."
Tyson is asking the city of Tonganoxie to spend $1.3 million to extend sewer service to the proposed meatpacking plant south of town. Ward has come out in support of the project.
"Tonganoxie is looking forward to a successful partnership with Tyson Foods," Ward said when the project was announced last week. "We have planned for a development of this type for many years by making strategic investments in public infrastructure targeted to support future growth.
"This project will bring much-anticipated opportunities for local residents to enjoy the quality-of-life benefit of working close to home. Tyson has a long history of support for small towns and local markets. They will be a great fit for our community."
Since the project was announced by Gov. Sam Brownback last week, the Tyson proposal has been controversial in this town of about 5,500 people northeast of Lawrence. An opposition group attracted about 1,000 people to an organizational meeting, and the group distributed 600 yard signs opposing the project in a half-hour's time.
Jen Peak, one of the organizers of the opposition group Citizens Against Project Sunset, issued a statement after learning of Ward's potential conflict of interest.
"On behalf of CAPS, there have been some serious concerns," Peak said. "The community finds the pattern of secrecy among our elected officials to be disturbing."
Ward noted that votes have not yet been taken by the Tonganoxie City Council on the Tyson matter.
"At this point, no official formal action has presented itself to our governing body … no formal action has been taken for the city of Tonganoxie to act on infrastructure."
Ward's role as mayor does not guarantee that he would vote on the issue. Tonganoxie has a five-member council. The mayor votes when a tiebreaker is needed or, in some cases, when a super majority is required for a specific vote.
The Tonganoxie City Council still must vote on the infrastructure request. The Leavenworth County Commission also must vote on several matters, including industrial revenue bonds that would allow for a property tax abatement, and an ordinance that would rezone the approximately 300 acres proposed for the plant. The site is about one mile north of the Tonganoxie/Eudora interchange on the Kansas Turnpike. The site is about 10 miles from Lawrence.
Tonganoxie City Council and Leavenworth County Commission officials signed non-disclosure agreements that prohibited them from talking specifically about Tyson's plans to build a plant near Tonganoxie.
The disclosure, which is an industry standard in economic development, has since been lifted.
Ward was elected to the City Council in 2005. He was appointed mayor in 2010. He won mayoral elections in 2011 and 2015.
Ward said he did not have a timeline for Tonganoxie city attorney Shannon Marcano to advise him on the conflict of interest matter. The city council's next meeting is 7 p.m. Monday.