Legislators pledge to join Tonganoxie fight against Tyson plant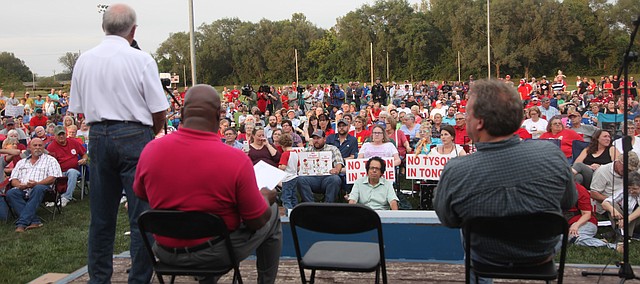 Tonganoxie — Residents pressed local legislators repeatedly about their stances on a proposed $320 million Tyson chicken processing plant during a town hall meeting Friday in Tonganoxie.
Sen. Tom Holland, D-Baldwin City, and Reps. Jim Karleskint, R-Tonganoxie and Willie Dove, R-Bonner Springs, all said during the meeting at Chieftain Park that they had numerous concerns about the proposed project, but they wanted more information before landing on either side of the issue.
By the end of the night, they had hopped off the fence.
"We came here tonight to hear your voice, your comments, your questions, your concerns," Holland said. "We did not hear one single person get up here on this stage tonight and tell us why this Tyson plant needs to come to this community."
His next comments brought huge cheers from the crowd, estimated at anywhere between 2,000 and 3,000 people.
"Given the response we've seen tonight, myself, Rep. Karleskint (and) Rep. Dove can unconditionally guarantee to you that we're going to work to defeat this proposal."
Sen. Steve Fitzgerald, R-Leavenworth, was not part of the panel, but spoke when area residents took turns asking questions or saying their piece.
"I am opposed to this," Fitzgerald said, triggering a roar from the crowd and many standing ovations.
Legislators said they were also frustrated by the fact that only a few days' notice was given before the announcement was made.
On Sept. 5, Gov. Sam Brownback and Tyson Foods, Inc., officials announced plans for a proposed processing plant, hatchery and feed mill south of Tonganoxie on a total of more than 300 acres. The company said at the announcement that it expected to break ground this fall.
If built, the plant is expected to employ 1,600 people. The other six Kansas plants combined employ 5,700, according to a press release given out at the Sept. 5 announcement.
Karleskint, Dove and Holland invited some constituents who had emailed them concerns previously to speak at the town hall meeting.
They then opened it up to Tonganoxie residents, and then Leavenworth County residents.
Jim Bothwell, who is running for Tonganoxie's school board, voiced concerns about the impact the influx of employees would have on Tonganoxie's schools. He also voiced concern about anticipated wages.
"It just doesn't sound like very sound economic development," he said.
Local residents, one after the next, told of their concerns, many centered on fears of diminished air and water quality.
During the 90-minute town hall, residents continually asked the legislators what they could do to fight the plant.
The elected officials repeatedly told crowd members to contact Leavenworth County Commission members.
Leavenworth County Commissioner Doug Smith, who was in attendance but talking with constituents elsewhere in the park, said Tyson had yet to file a zoning request for its properties south of Tonganoxie.
Smith, who represents Tonganoxie, Basehor and Linwood areas, is waiting for that step.
"There's nothing to decide until it goes through planning and zoning," he said.
Loralee Stevens, who is running for Tonganoxie City Council, said Tonganoxie can thrive by attracting tenants to an undeveloped business park near the proposed Tyson properties.
"We have a great plan," Stevens said. "We didn't ask for this. We have a plan of our own."
The proposed plant is about 2 miles south of Tonganoxie and 10 miles from Lawrence.