Leavenworth County commissioners revoke bond support for proposed Tyson chicken plant near Tonganoxie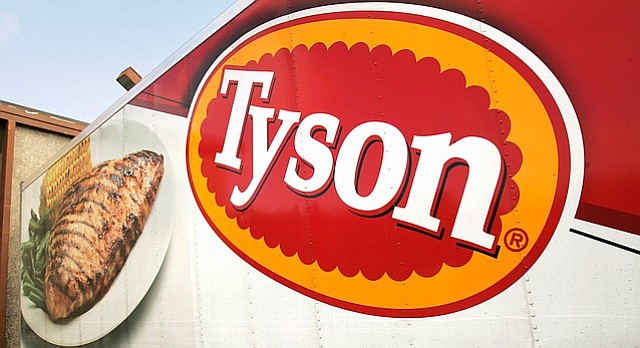 Leavenworth — Leavenworth County commissioners at their meeting Monday morning said they no longer are prepared to issue a key set of bonds for a controversial meatpacking plant proposed for a site south of Tonganoxie.
On a 2-1 vote, the County Commission rescinded a previous "resolution of intent" to issue $500 million in industrial revenue bonds as part of a plan by Tyson Foods Inc. to build a chicken-processing facility south of Tonganoxie. The bonds are a key part of the project because they would make the facility eligible for an 80 percent property tax abatement for 10 years.
A Tyson spokesman said the company was disappointed by the vote and is considering its options.
"We're disappointed by the commission's reversal on revenue bonds," said Worth Sparkman, a spokesman for Tyson. "The commission's prior approval was part of state and local efforts to persuade Tyson Foods to locate in Leavenworth County. It was one of the factors we considered when determining where to locate our new poultry complex. We're evaluating our options in light of today's vote."
Whether the County Commission's latest vote holds, though, is up in the air. Clyde Graeber, one of the three members on the Leavenworth County Commission announced his pending resignation from the commission for health reasons. Gov. Sam Brownback, who is a supporter of the Tyson plant, will play a role in the appointment of a new commissioner. With the commission split 2-1 on the Tyson issue, that means there could be a new majority on the commission following the appointment.
Graeber was one of the two commissioners who voted to rescind the bond resolution. Commissioner Robert Holland was the one dissenting vote.
The resolution originally passed at the commission's Aug. 31 meeting by a 3-0 vote. The resolution was to benefit Binswager Advisory Services, which the public later learned was Tyson after a disclosure ban was lifted. The Arkansas-based company announced Sept. 5 in Tonganoxie that it planned to build a massive $320 million chicken-processing plant on two properties totaling more than 300 acres about a mile north of the Tonganoxie/Eudora Interchange on Interstate 70. The site is about 10 miles from Lawrence.
County commissioners were advised that they could still legally back out of the bond issuance. Interim County Counselor David Van Parys said that, to his knowledge, there was no binding contract with Tyson.
"With respect to Tyson having any claim against the county, I'm not aware of any," VanParys said.
There also were conditional contracts with Atmos Energy and Suburban Water for more than $7.3 million for aid-in construction that the companies would reimburse. That agreement was to extend utilities to the unincorporated areas where Tyson planned to develop.
Where the project now stands is uncertain. County commissioners could take up the issue of the bonds at another time, or Tyson could take other steps to keep the project moving forward in the county.
The county is still awaiting Tyson to file an application with the county's planning and zoning department to rezone the proposed site for the facility. But that application would need to be filed by Friday to keep the process moving. Otherwise, it could be December before a decision could be made. At Tyson's Sept. 5 announcement, officials said they hoped to start the project this fall and have the plant running in 2019.
Commissioner stepping down
Another factor could come into play in the process: a new commissioner.
Graeber, who has represented the Second District for 13 years, announced at the end of Monday's meeting that Thursday's commission meeting would be his last.
Because of continued heart issues, Graeber is stepping down.
The former Lansing City Commission member and state representative said his doctor strongly encouraged him to step down. Graeber said he had another hospital stay last week because of his heart problems. Lymphoma, which had been dormant for two years, also has returned, he said.
"I didn't see that coming," said fellow Commissioner Doug Smith, who was elected this past November. "I would feel sorry for who's going to have to fill them shoes, commissioner.
"I'm glad I got to serve with a statesman like Clyde Graeber."
Holland got up to shake hands with Graeber and thank him for his time on the board.
An emotional Graeber fought back tears as the audience in the chamber gave him a standing ovation.
County Clerk Janet Klasinski said the precinct committee members from the Republican Party would appoint Graeber's replacement. Per state statute, the governor would then make the final appointment.
The new appointment potentially will be a swing vote on the Tyson issue.
Brownback helped make the Tyson announcement earlier this month. He touted the project, which is expected to employ 1,600 people and inject $150 million into the Kansas economy annually.
Brownback's office responded to Monday's decision by noting that local government is a process.
"From the beginning, Gov. Brownback encouraged people to speak up at their forums and with their community leaders," said Rachel Whitten, press secretary to Brownback. "This is a process. Local leaders and citizens have to work out the best solutions for the future of Leavenworth County."
Kevin Doel, spokesman for the Kansas Department of Commerce, declined comment because it was a local issue.
But Heather Lansdowne, spokeswoman for the Kansas Department of Agriculture, said efforts still are ongoing for the local proposal.
"Plans continue to move forward to make Leavenworth County a successful home for Tyson Foods," Lansdowne said. "Although questions still exist, strong efforts are being made to address those concerns."
Put it to a vote
Local legislators encouraged local residents during Friday's town hall meeting at Tonganoxie's Chieftain Park to push the Tyson debate to a ballot.
Klasinski said Monday that such a vote could happen, but that it would be an advisory vote. Though it would tell elected officials the community's stance on a position, it would have no legal bearing on the process, Klasinski said.
She said a countywide mail ballot likely would be the best route and most efficient financially. She estimated it would cost $30,000 to conduct such an election.
Citizens Against Project Sunset formed amid Tyson's announcement about two weeks ago. The group has created shirts, signs and bumper stickers advocating against the proposed plant with the slogan "No Tyson In Tongie."
Earlier in Monday's meeting, before Graeber's announcement, audience members grilled Robert Holland about his nay vote.
Robert Holland, who toured a Tyson plant last week in Tennessee with other local officials, told a Kansas City television station late last week that he favored the plant after touring the Tennessee property.
The commissioner, who serves the northwest portion of the county, said he planned to give a report on his visit at an upcoming meeting. He didn't specify which meeting, but said that it would be an agenda item.
An audience member blasted Robert Holland during the meeting for his position, saying that Tyson put on a "puppy show" for the county commissioner and other local officials. The man said he lived near the proposed plant and that his wife had stage 4 cancer. He feared that she couldn't be outside because of lower air quality due to the plant.
Graeber interjected.
"You might not agree with him and I might not agree with him, but I don't think we should prejudge his action as being evil or bad," Graeber said. "He is trying to represent his people. I know Bob well enough to say that. He is an honest, Christian gentleman."
The man responded quickly.
"I'm an honest Christian man, too," he said. "But I don't blow smoke."
Sen. Tom Holland, D-Baldwin City, was one of the legislators at Friday's town hall meeting. He and Reps. Jim Karleskint, R-Tonganoxie, and Willie Dove, R-Bonner Springs, pledged by the end of the meeting to fight the proposed plant.
Sen. Holland weighed in Monday about the County Commission move.
"To me, an appropriate place for that (plant) in Kansas would be where citizens want it. … I've been very cautious about voicing my own personal concerns about that," the senator said in a phone interview. "I thought from Day 1, just that whole chicken processing, especially the chicken growing, was just not an appropriate economic force for northeast Kansas. So I personally had real reservations about it."
If it the issue somehow makes it to the Legislature, he said he plans to oppose it.
"Believe me, if somebody in the Legislature and the governor's office try to push this through at the state level, I'm going to do everything I can to jump up and down or whatever it takes to derail that effort," the senator said. "The citizens have loudly spoken. They don't want it in Tongie or Leavenworth County. Tyson needs to look elsewhere, and the Legislature needs to butt out."
Notable neighbor
Kirk Sours, manager of Tailgate Ranch, was one of the last to speak about the Tyson plant at Monday's meeting.
Tailgate Ranch covers 2,000 acres and borders the larger of the two Tyson properties on three sides.
Sours said Tailgate long has been the "apple of the eyes of Leavenworth County developers."
Paul McKie and his family have owned the land for years, but as McKie said, they are realists, and realize what the ranch could mean to future development along the the Leavenworth County Road 1 corridor.
Sours told the commission that making the land a conservation easement would be a likely option for the land if the Tyson plant were to come to fruition.
According to the Kansas Land Trust website, a conservation easement is a voluntary agreement between a landowner and a conservation organization that allows a landowner to limit the type or amount of development on a property while retaining private ownership and many uses of the land.
The terms of the conservation easement apply to all future owners of the land, according to KLT.
The turnpike interchange opened in 2009. Many rural neighbors who oppose the chicken plant also opposed the turnpike interchange.
As county commissioners mulled options for a connecting road to the Kansas Turnpike Authority's interchange back in 2005, the McKie family told Tonganoxie officials they would voluntarily annex their land to the city — if CR1 were picked as the connecting road.
County officials picked that route and upgrades were made to the two-lane road. Tailgate Ranch, meanwhile, remains in the county.
— Journal-World reporter Peter Hancock contributed to this report.