Tyson putting hold on proposed chicken plant plans near Tonganoxie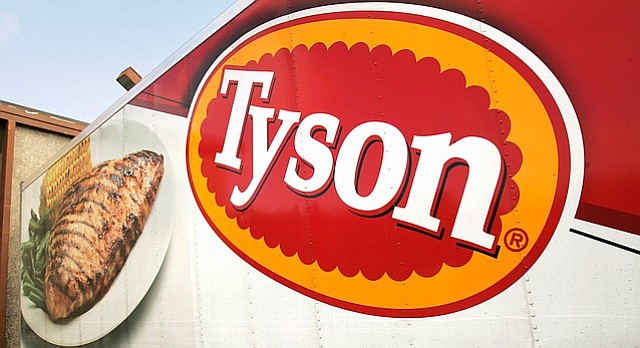 Tyson Foods, Inc., is putting a proposed $320 million project near Tonganoxie on hold.
In an open letter from Tyson to the Leavenworth County community emailed Tuesday, group president of poultry Doug Ramsey wrote that the company is delaying the process in light of Monday's Leavenworth County Commission decision to rescind intent to issue $500 million in industrialized bonds for the project.
The letter talks about Tyson's 5,700 "team members" who are proud to live and work in Kansas and an annual economic impact of $2.4 billion in the state and reasons Tyson thought Leavenworth County was a good fit.
But the letter eventually explained the status of the project.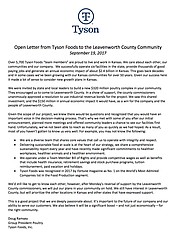 "We'd still like to get to know each other, however, after Monday's reversal of support by the Leavenworth County commissioners, we will put our plans in your community on hold," the letter read. "We still have interest in Leavenworth County, but will prioritize the other locations in Kansas and other states that have expressed support. 
"This is a good project that we are deeply passionate about. It's important to the future of our company and our ability to serve our customers. We also believe it will be a significant boost – and not just economically – for the right community."
The process became public Sept. 5 when Gov. Sam Brownback and other state officials joined with Tyson officials to announce a proposed $320 million state-of-the-art chicken-processing facility that would span a total of more than 300 acres on two sites a couple miles south of Tonganoxie.
The sudden announcement, though, received instant pushback, including an area resident voicing disapproval during the announcement ceremony. Ramsay and Brownback both assured the audience that a series of town-hall meetings would take place for citizens.
But the only meetings engaging the public the last tow weeks were Tonganoxie City Council and Leavenworth County Commission meetings met with overflow crowds of mostly upset residents. State legislators also held a town-hall meeting in a Tonganoxie park where some 2,000 residents gathered.
On Monday, county commissioners voted, 2-1, to rescind a previous intent to issue $500 million in industrialized bonds for the project that would provide for 80 percent tax abatements for 10 years. Atmos Energy and Suburban Water also were part of tentative plans to connect services to the proposed plant. Tonganoxie, meanwhile, was looking at extending sewer services to the tune of $1.3 million.
But at Monday night's Tonganoxie City Council meeting, after nearly two hours of citizens mostly sharing concerns about the project, council members started stating publicly that they didn't think the sewer project made sense anymore. The council opted to put those intentions to a vote at its next meeting after four of five members wanted to cut ties. The fifth member, Kara Reed, wanted more information before making a decision at the next meeting. She said she had heard from many residents in the last few days who either were on the fence or supported the project, but were afraid to speak up publicly for fear of backlash from the "No Tyson in Tongie" group, Citizens Against Project Sunset.
Council Member Curtis Oroke had a heated exchange with area residents after the Sept. 5 announcement.
Oroke said he thought Tyson's decision to stop the project was "self-inflicted as far as I'm concerned" because he didn't feel Tyson shared enough information up front and left local officials to answer questions. And, instead of residents getting information from Tyson, they were getting their own online and finding stories of various EPA violations and other problems with the company.
In the open letter, Ramsey noted that Tyson had made significant commitments to healthier workplaces, healthier animals and a healthier environment.
He also states that Tyson Foods was recognized by Fortune magazine as No. 1 on the World's Most Admired Companies list in the food production segment.