Autographed memories at former Tonganoxie Elementary School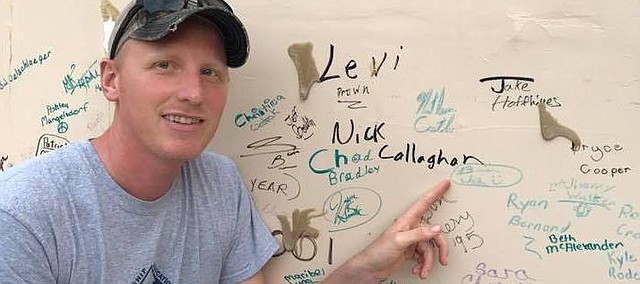 Brian Welsh remembers his name and those of classmates being etched in history at the former Tonganoxie Elementary School.
Crews renovated the former stage in the north gymnasium and turned it into a music room for grades 4-6 before the start of the 1994-95 school year.
Welsh, who graduated in 2001, was a sixth-grader in 1994-95.
His music teacher at the time had sixth-graders — and only that year's sixth-graders — sign a wall in the room, as Welsh recalled.
This past Friday, Welsh, who has been working for Tonganoxie police and the Tonganoxie City Fire Department since Sept. 18, ventured to the former school site after one of his shifts.
Demolition workers have been methodically tearing down the building in recent weeks. Welsh chatted with a demolition worker about the wall. They proceeded to move the chalkboard, only to uncover the signatures of his class more than 20 years later.
"It felt really cool to find it and share that with everybody," Welsh said.
The THS graduate shared photos on his Facebook, which of course triggered comments from classmates and teachers.
Some told Welsh they didn't remember signing the wall, while other said they had forgotten about doing that so many years ago.
Welsh said the wall couldn't be salvaged with all the signatures in one piece, but noted that it still was standing as of Monday evening.
Welsh, who is back in Tonganoxie after serving as a firefighter for three years in Arizona, returned home just in time to see the longtime school before it is completely torn down.
"It's kind of sad," Welsh said. "A lot of memories there. I started third grade there and went back and was a teacher's aide in high school.
"I've been back several times since to be a firefighter for Fire Prevention Week."
A group of Tonganoxie residents joined forces to buy the property several months ago. Kay Soetaert, one of the property owners, said the land's future use still is in the works. Part of it could be used for a new Tonganoxie Public Library, as the library board has earmarked a portion of the property as its frontrunner for the site of a new library. Other options being considered were the current site at Third and Bury (expansion) or the vacant lot at Third and Main streets.