Hot (pink) shot for Tonganoxie High golfer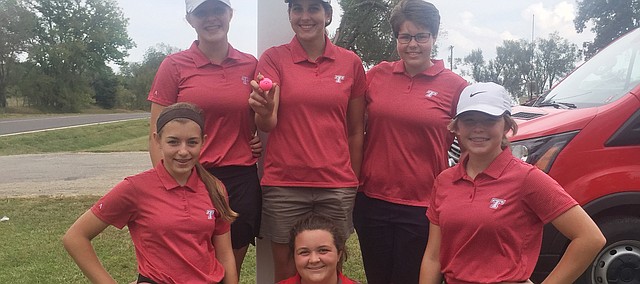 Brenn Shryock checked off a golf rarity Monday in Ozawkie, something no one in the Tonganoxie High boys program has done in some 15 years of existence.
And Shryock has only been golfing for a couple months.
The THS junior made a hole-in-one at Village Greens Golf Course during a tournament Jeff West was hosting.
It was No. 16. Par 3 at 78 yards.
"It was the shortest hole, so I could see it," Shryock said about seeing the ball drop in the cup. "Me and my group just freaked out about it. We were jumping around screaming. Other groups heard us from all over."
Oh, and her club of choice?
Well, it was Coach Doug Sandburg's sand wedge.
Though she's a lefty with a bat in softball, Shryock is right-handed for other sports and tasks.
This was her second time playing the Ozawkie course, as Tonganoxie was there for a tournament early in the season.
Tonganoxie placed sixth as a team with a score of 444. Piper won the meet with a 359. Spring Hill took second (375), Holton third (395) and Jeff West fourth (397). The top four scores for each team determine that squad's overall score.
Morgan Brusven took sixth overall with a 91. Rebekah Martin shot a 107, Meghan Heskett a 122, Shryock and Savannah Adams both a 124 and Theona Vaughn a 131.
Shryock said she was pleased with how the fledgling THS team has done in its first year of existence.
"I think we've done really good," the junior said, noting that Martin is the only one team member with extended experience. And even she has only been golfing during her high school years.
"We've already had a bunch of girls place," she said. "It's pretty good."
As for memories of that big feat Monday, Shryock still has her historic golf ball, a hot pink Calloway, in her possession.
Sandburg said he was sure to let the boys team, which competes in the spring, know of Shryock's accomplishment.
When told of Sandburg's comments, Shryock was sure to chime in, joking that the hole-in-one "probably got on the boys' nerves."
The team competed again Tuesday, but the meet took place after The Mirror's print deadline. THS competed at Hidden Springs Golf Course near Overbrook.
Santa Fe Trail was the host team.
Others teams there were Gardner-Edgerton, Osage City, Silver Lake, St. Mary's Academy and West Franklin Learning Center High.