THS

runners sweep at home invite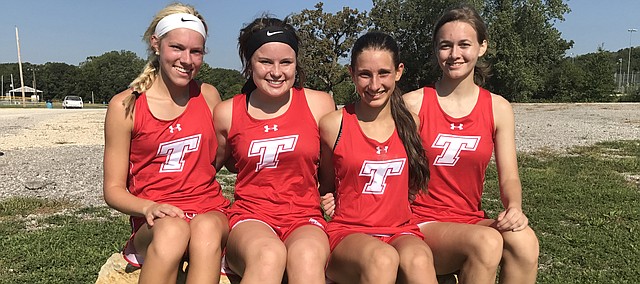 Tonganoxie swept the varsity races at its home invitational last week.
The boys had the winning low score of 35, while the girls scored a 26 on Sept. 19 at the Leavenworth County Fairgrounds.
In the boys meet, Manhattan took second (60), Topeka West third (92), Wyandotte fourth (108), Atchison fifth (109) and Bishop Seabury sixth (109).
Junior Calvin Morgan led Tonganoxie runners with a fifth-place finish and a time of 18 minutes, 4.78 seconds. Fellow junior Jakob Foley placed seventh (18:33.14) and Chandler Hamman 10th (18:47.99). Sophomore Jake Edholm placed 12th (18:58.18), sophomore Dylan Graham 17th (19:16.21) and freshman Aidan Boone 21st (19:58.62).
The girls varsity team won the team title in a three-team field.
Bishop Seabury placed second (53) and Topeka West third (56).
Seniors Sierra Staatz and Mia Bond finished fourth and fifth, respectively. Staatz had a 22:33.05 time, while Bond finished in 22:36.78.
Senior Alyssa Scott took eighth (23:11.87), senior Erin Williams ninth (23:29.49) and freshman Katherine Wombwell ninth (23:30.74). Freshman Heather Wombwell wasn't far behind in 12th (25:15.99). Freshman Kristi Chambers took 15th (25:49.21)
The junior varsity boys placed second (51) out of six teams. Manhattan won the JV boys meet with 21 points.
Manhattan was the only team to field a full team in the JV girls race.
Rim Rock results
Tonganoxie competed Saturday at the Rim Rock Farm High School Classic.
The THS boys placed 33rd overall in the Crimson division race, while the girls finished 35th as a team at the home course of the University of Kansas cross country team northwest of Lawrence.
Up next
Tonganoxie competes Thursday at the Perry-Lecompton Invitational at Lake Perry. Races start at 4 p.m.
The team has a bit of a break before its next meet, as the squad goes Oct. 7 to Pleasant Ridge for a meet there.