Tonganoxie football stays undefeated with victory against Bonner Springs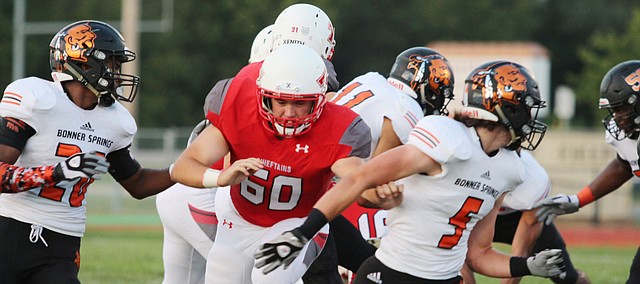 Last year, Tonganoxie was rolling heading into its game against Bonner Springs. Then BSHS tripped up the visiting Chieftains, 21-12, handing them their first loss of the season. Key injuries started to mount and THS went 2-4 after the 3-0 start.
This year is different.
Tonganoxie held on for a 28-18 victory Friday, improving to 4-0 on the season and 2-0 in the Kaw Valley League.
Tonganoxie got on the board first and led, 14-6, after the first quarter. The teams traded touchdowns in the second quarter and didn't score in the third quarter. Tonganoxie outscored Bonner, 8-6, in the fourth quarter and held on for the victory. Bonner Springs fell to 2-2 with the loss.
Mason Beach went 5-for-12 for 50 passing yards, including two touchdowns.
Dalton Bock rushed for 174 yards on 22 carries, while Korbin Riedel had 164 yards on 29 carries, as each back scored a touchdown. The team had a total of 361 rushing yards, averaging 6.1 yards per carry. Zac Morgan had two receptions for 39 yards and Drake Pray had two carries for 11 yards. Caden Searcy had one reception for nine yards.
Riedel led the team defensively with eight tackles, Connor Searcy was in on seven tackles, LeeRoi Johnson and Drake Pray each with five in leading the Chieftains defensively.
Tonganoxie next takes on Lansing this Friday on the road. LHS is 1-3 overall and 1-1 in the KVL. The team's lone victory was a 67-0 rout against Bishop Ward in Week 2. The Lions have lost all of their games by nine points or less, including last week's 14-7 overtime loss to Piper.
A victory against Lansing could put THS on course for a league and district title in the regular-season finale Oct. 27 against Basehor-Linwood.
The Bobcats also are undefeated and have yet to be challenged. BLHS has outscored opponents, 223-0.