Tonganoxie community shows support for family of fallen soldier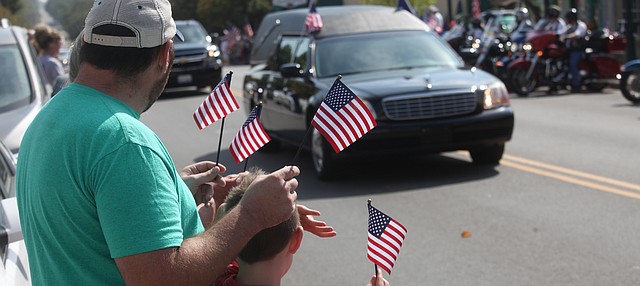 Tonganoxie came out earlier this month to pay tribute to a fallen soldier.
Private services took place Sept. 16 at Quisenberry Funeral Home for Chief Petty Officer Charles Nathan Findley, who died Aug. 21 while serving his country aboard the USS John S. McCain.
Tonganoxie resident Kay Soetaert was Findley's grandmother.
Residents were encouraged to line Fourth Street as the funeral processional left a private service at Quisenberry Funeral Home. Residents, as well as American Legion Freedom Riders and others were on hand to show respects and the line the main thoroughfare through the downtown area. Small American flags were handed out and the Tonganoxie City Fire Department, as has been customary for community events and other occasions, flew a large American flag over Fourth Street at Shawnee Street.
Findley was born July 3, 1986, to Christine (Soetaert) and Michael Findley in San Diego, Calif. He was 31.
Findley graduated from Central High School in St. Joseph, Mo., and went on to become an electronics technician in the U.S. Navy. He married Riho Findley while in Okinawa, Japan, and the two of them enjoyed rebuilding cars together.
The electronics technician had two children with his former spouse, Chenoah Findley.
Burial followed the private ceremony, with military honors, at St. Joseph Catholic Cemetery in Shwnee. A public celebration of life took place later that day at the Knights of Columbus building in Shawnee.