Tyson could be looking to build in Cornhusker State; Concordia reportedly showing interest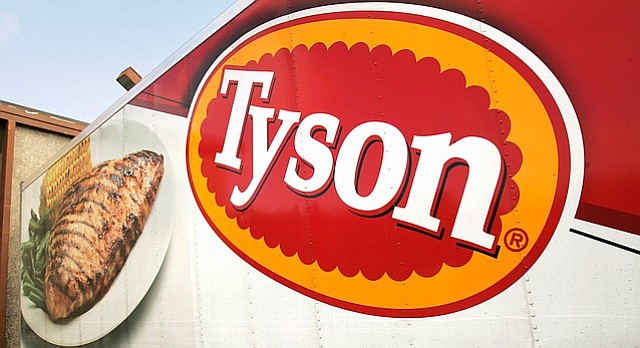 Kansas had the fourth lowest income growth of any state in the country during the second quarter of 2017, according to the U.S. Bureau of Economic Analysis.
Personal income grew by only 0.4 percent during the quarter, which ranked Kansas 47th among the states. The national average was 0.7 percent.
Growth in the Plains region, which includes Kansas, generally wasn't too good in the second quarter. Here's a look at how other states in the region fared:
• Iowa: up 0.1 percent
• Minnesota: up 0.5 percent
• Missouri: up 0.7 percent
• Nebraska: up 0.1 percent
• North Dakota: up 0.7 percent
• South Dakota: up 0.4 percent
All the states in the region saw their earnings from the farm sector decline. What was different about Kansas is it also saw a significant drop in the manufacturing sector.
Kansas saw earnings in the nondurable goods manufacturing sector drop by about $130 million. On a percentage basis, that was the largest drop of any state in the country.
When you look at the total manufacturing sector — which includes durable goods and nondurable goods — Kansas lost about $125 million in earnings during the quarter. Of the Plains states, North Dakota was the only other state to post a decline, and it was only a $1 million decline. In contrast, Minnesota and Missouri led the way with about a $260 million increase in manufacturing earnings.
One type of manufacturing plant that may not be coming to Kansas is a chicken-processing facility. We all know of the opposition that Tyson's plan for a chicken plant outside of Tonganoxie has created.
Well, the speculation has certainly begun that Tyson may take the project outside of Kansas. The Omaha World-Herald has a story speculating that Nebraska economic development officials will try to recruit the plant now that Tonganoxie and Leavenworth County officials have backed away from a deal with Tyson.
Tyson hasn't commented, nor have economic development leaders in Nebraska.
But there is speculation that the project could move to Nebraska because that state successfully recruited a chicken plant that will be operated by Costco. The discount retailer is building a chicken-processing facility in Fremont, Neb.
An economic development site selector told the Omaha newspaper that he expects Tyson to no longer consider Kansas for the deal.
"I suspect they're going to leave Kansas in the dust and look for another low-cost, right-to-work place in the Midwest," John Boyd, with Princeton, N.J.-based The Boyd Co., told the World-Herald. "Nebraska makes perfect sense."
Meanwhile, in the Tonganoxie area, things are in a holding pattern. Leavenworth County Commissioner Robert Holland said a work session to discuss his visit to a Tyson plant in Tennessee was a moot point because the Tyson project currently is on hold in Leavenworth County.
On Wednesday, reports came out of north central Kansas that the chicken-processing plant could land in Concordia.