Tonganoxie High Science Olympiad team wins 4th straight small-school state title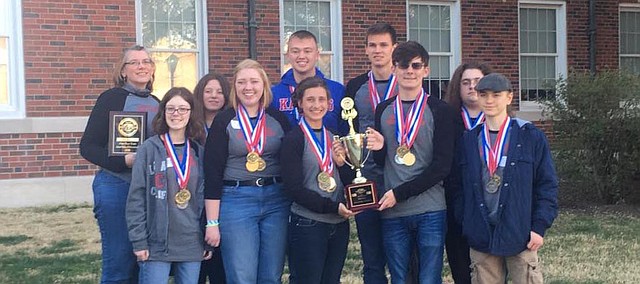 Tonganoxie Interim Superintendent Tonya Phillips joked at Monday's USD 464 school board meeting that some Tonganoxie High School students were a bit late to prom Saturday, but it was for good reason.
Those THS students brought home a fourth straight state title in Science Olympiad in the small-school division.
THS again won the top spot during competition at Wichita State University. The team also won the distinction in 2015, 2016 and 2017.
In 2014, the team finished second among small schools and placed third in 2013.
Here's a rundown of students placing at state:
First-place winners were Payton Lynn and Sierra Staatz in Disease Detectives, Bryn Reed and Gwen Slabaugh in Dynamic Planet, Adam DeMaranville and Ethan Sandburg in Game On, Payton Lynn, Bryn Reed and Ethan Sandburg in Experimental Design, Jose Monarrez and Allison Williams in Herpetology, Sierra Staatz and Harrison York in Microbe Mission, Jared Bothwell and Blake Phillips in Towers, and Tyler Griffith and Allison Williams in Write It/Do It.
Second-place winners from THS were Jared Bothwell and Bryn Reed in Fermi Questions, Sierra Staatz and Harrison York in Materials Science, Tyler Griffith and Alex Tucker, Remote Sensing;
Blake Phillips and Ethan Sandburg, Thermodynamics; Gwen Slabaugh and Sierra Staatz, Astronomy, and Blake Phillips and Ethan Sandburg in Chemistry Lab.
Third-place winners were Adam DeMaranville and Ahren Gann in Mousetrap Vehicle, Jared Bothwell and Tyler Griffith in Optics, and Jose Monarrez and Sofia Romero in Anatomy and Physiology.
TMS team also competes
The Tonganoxie Middle School team again competed alongside its THS counterpart, but TMS was in the large-school division.
Sydney Shepherd, Caden Phillips and Alex Crenshaw placed third in Experimental Design.
Several others finished in the top 10 for their events.