Tonganoxie track nabs several medals at Bobcat Relays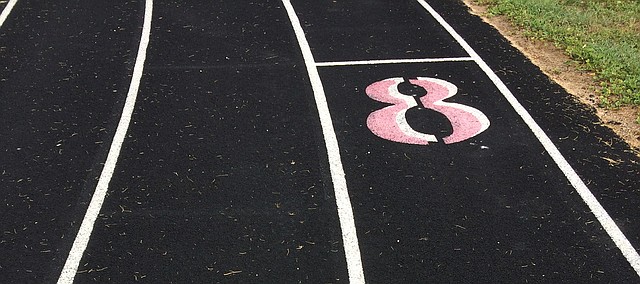 The Tonganoxie High track team brought home several medals from last week's Bobcat Relays at Basehor-Linwood.
Corinn Searcy and Sierra Staatz finished first and second, respectively in the 400 meters. Searcy finished in 1 minute, 1.16 seconds, while Staatz was just behind with a 1:01.39 time.
The 4x400 relay team, with a time of 4:20.61, also won gold.
In the 200, Natalee Shepard won silver with a time of 27.68.
Mia Bond placed third (2:39.4) and Kristi Chambers fourth (2:42.31) in the 800, while Cami Timm (18.51) took fourth in the 100 meter hurdles.
Cami Timm placed fifth in the 300 meter hurdles (52.52), while Merkayla Khantaboury nabbed silver in the triple jump (31-11).
It was a pretty good event for the Chieftains, as Sierra Staatz (31.5.5) finished fourth and Trinity Touchton (31-4) placed sixth.
Keagan Newberry delivered in the field events. She placed third in discus (101-3) and second in shot put (33-11).
Boys take 3 golds
The THS boys team nabbed a trio of first-place finishes at BLHS.
Calvin Morgan won the 3,200 (10:34.5), while the 4x800 team also placed first (8:53.85). Kyle Snyder won the team's final gold with a 150-8.5 throw in the discus.
Elijah Tyner took fourth in the 100 (11.72), while Zac Morgan got third in the 200 (24.05).
Drake Pray finished fifth in the 400 (55.06) and Dylan Graham the same place in the 800 (2:11.88) and Jake Edholm also fourth (5:11.63) in the 1,600.Josh Bosley wasn't far behind in sixth with a 5:37.49 time.
The 3,200 was a good event for THS, as Jakob Foley took second (10:40.95) to Calvin Morgan's first-place finish.
In the 110 hurdles, Logan Beach placed fifth (18.82) and Dallas Bond (19.84).
The 300 hurdles saw Logan Beach finish fourth with a 46.19 time.
The 4x400 team finished fourth in that relay (3:52.66).
In the long jump, Eric Neas placed fourth (19-9) and Lucas McCoy sixth (19-1). Neas followed up with a third-place finish in the triple jump (40-11).
Tonganoxie picked up a good number of points in the pole vault. Logan Beach placed second (10-6), Wyatt Martin third (10-0) and Dylan Lang fourth (10-0).
Rylee Beach finished up scoring with a sixth-place finish in the javelin (124-2).
Tonganoxie was at home after The Mirror's deadline Tuesday at the Tonganoxie Invitational.
On Thursday, the team is off to Cessna Stadium for a meet at Wichita State University.