Mural work inside Tonganoxie business continues this weekend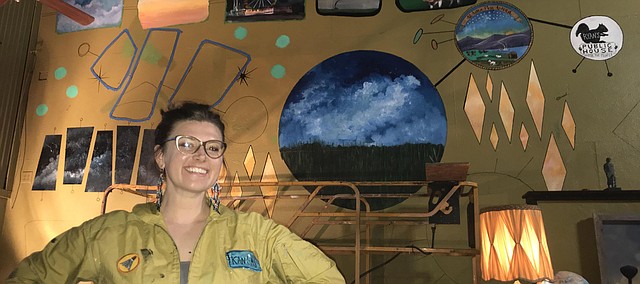 With the help of an industrial lift, Elizabeth Daniel moved back and forth, up and down Saturday and Sunday at Ryan's Public House in downtown Tonganoxie.
The Tonganoxie artist turned the avocado-colored wall into an ever-growing mural, scene by scene.
Loralee Stevens, who owns the pub with her husband, Mike Ryan, said she estimated about 300 people funneled in and out of the establishment during the weekend. There was live music and a food truck that helped make the painting a festive event.
Equipped with an array of brushes and an artist's jumpsuit, Daniel painted various Tonganoxie and Kansas scenes on the wall. The lift also came equipped with a horn, which Daniel was happy to use to welcome new visitors or get someone's attention.
Using photos visitors submitted to her electronically, Daniel added to the mural, scene by scene. She anticipates finishing up the project this weekend.
Visitors again are welcome to see t
A Kansas artist, mother, sky gazer, junk store adventurer and lover of all things vintage and quirky, Daniel currently resides in Tonganoxie with her family.
Originally from Meriden, her paintings usually portray familiar Kansas landscapes and wildlife portraiture that border on realism yet make use of dreamy fantastical colors and blunt brushstrokes.
A lifelong fascination with the "Atomic Era" and the design elements of the 1950s and 1960s lead Elizabeth to toying with the idea of mixing nature and nostalgia. She has created a line of mid-century inspired work that boasts bright colors and almost appears to serve as vibrant, kitschy advertisements for Kansas scenery.