Tonganoxie High off to hot start with 6-0 record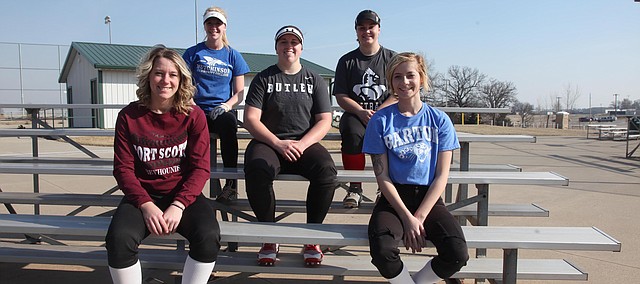 When your team has tallied four shutouts and outscored opponents 86-5, it's a pretty good start to the season.
Tonganoxie High softball entered Tuesday's doubleheader at Lansing with a spotless 6-0 record.
After sweeping Bishop Ward in the season opener, THS rolled Bonner Springs and Pleasant Ridge last week.
The team outlasted Bonner, 10-3 and 12-0. Against Pleasant Ridge, the Chieftains won, 18-0 and 23-2 against the Rams.
In the first game, THS built up a 7-0 lead and never looked back.
Makenzie Sample and Delainey Fenaglio led the team in hits with three each, while Fenoglio also had 4 RBI.
Erin Gallagher threw seven innings, throwing seven strikeouts and giving up 10 hits. THS had 13 hits on the day.
In the second game, Fenoglio pitched five innings, striking out four and giving up four hits in the 12-0 victory.
Lauren Willson, Brenn Shryock and Lauren Gray led the team with three hits each. Audrey Miller had four RBI and Samantha Reynolds three.
Against Pleasant Ridge, Reynolds threw a no-hitter as THS won, 18-0.
Willson and Gallagher led the team with two hits each, while Willson had four RBI.
Fenoglio and Gallagher also had three RBI each.
Reynolds registered eight strikeouts in three innings, as the mercy rule went into effect.
Tonganoxie scored 17 runs in the first inning on its way to a 23-2 victory.
PRHS scored two in the bottom of the first, but that would be all they could muster.
Audrey Miller tallied a game-high six RBI in the victory, as Willson had four and Gallagher three.
Gallagher and Miller also led the team in hits with three, as Sample contributed two hits of her own.
Check out more from the Lansing doubleheader on the road and other future games by visiting our home page at tonganoxiemirror.com.