Tonganoxie City Council approves alcohol permits for library, festival; Bennett sworn in; roof repairs approved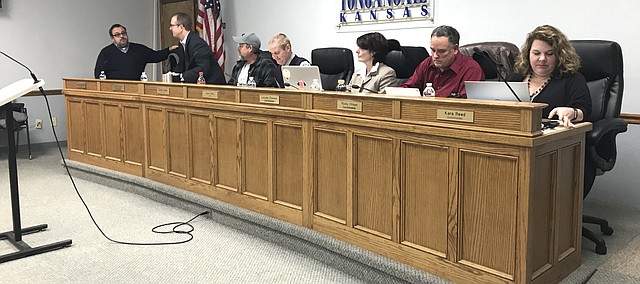 The Tonganoxie City Council approved alcoholic beverage license for Tonganoxie Days and for the Tonganoxie Public Library for its monthly art nights.
As was the case for the Sesquicentennial celebration in 2016 and last year's Tonganoxie Days, the city will have a beer tent just north of the water park. Folks attending again, like last year, will be able to roam the grounds with their beverages. The grounds again will run from Fourth and Main to Second and Main and will include Gallagher Park and Third Street from Main to Delaware.
That measure passed, 5-0, while the library issue passed, 4-1.
Rocky Himpel voted against it.
"I have a problem with alcohol in the library," Himpel said. "I don't think that's a proper place to have alcohol."
Library director Nicole Holifield said it was standard procedure for several area libraries. The wine can be consumed from 5:30-8 p.m., with limits put on consumption. The events take place in the community room, which is closed off from the rest of the library.
Only guests 21 and older can participate, Holifield said.
"The library is becoming more than just books," she said. "We're having a lot more events — a lot more adult events.
"I've asked now for over a year. I decided to act upon it."
Himpel was concerned people would be drinking beverages such as bourbon and Coke.
"Let's not sugarcoat it," he said.
But fellow Council Member Loralee Stevens, who used to serve on the library board, disagreed.
"I don't think that's going to be the scene going down there," Stevens said.
Bennett sworn in; planning commission seat open
Newly appointed Council Member Dave Bennett was sworn in at the start of Monday's meeting. The former fire chief was appointed at the last meeting.
City Manager George Brajkovic also announced that Planning Commission Member Steve Gumm was stepping down. Gumm served several years on the council before his planning commission stint.
The Planning Commission will recommend an appointee based on applicants for the council. Himpel asked that the council receive all applicant applications.
Council approves City Hall roof repairs
The City Hall roof is experiencing leaking problems.
Council Members heard from City Superintendent Kent Heskett about bids to fix the roof.
Heskett recommended the low bid of $28,845 from Midwest Roofing. The council unanimously approved.
Other bids were from Christian Brothers Roofing ($30,129), Redhammer Roof Group (33,855) and Delta Commercial Roofing ($37,740).