Tonganoxie freshman Brusven named to all-
LJW

basketball team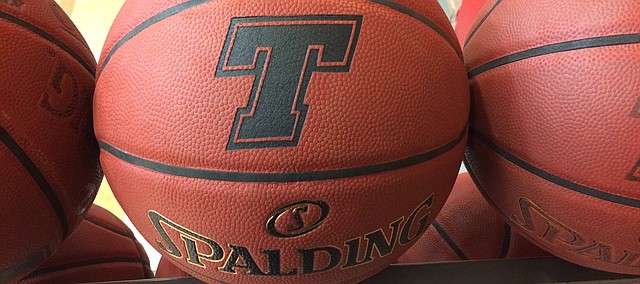 Player of the Year
Abby Ogle, Baldwin — Setting the tone with intense defense and strong scoring, Ogle was a unanimous first-team all-Frontier League selection. The 5-foot-7 senior guard averaged 17.4 points, 6.4 steals and 4.4 assists per game, scoring more than 1,000 points in her varsity career. She averaged 21 points in the Class 4A-II state tournament, the program's third appearance in the last four years.
Coach of the Year
Bob Martin, Baldwin — Martin led the Bulldogs to their first state championship since 1996 with a relentless defense and a high-scoring offense. Baldwin won the Class 4A-II state title with a 24-1 record, earning its third state championship in program history.
First team
Chisom Ajekwu, Lawrence — Controlling the paint with her height and strong post moves, the 6-foot-3 center averaged 11.9 points and 10.3 rebounds per game. Ajekwu, a junior, earned second-team all-Sunflower League honors while leading the Lions to a 17-5 record.
Morgan Brusven, Tonganoxie — Only a freshman, Brusven led the Chieftains' offense with 8.8 points per game on her way to receiving an all-Kaw Valley League honorable mention. Skilled in the post, Brusven led Tonganoxie to six wins.
Shannon Clarke, Free State — Growing with confidence throughout the season, Clarke shot 47 percent from the field on her way to 10.5 points and 7.4 rebounds per game. One of the Firebirds' leaders in steals, Clarke received an all-Sunflower League honorable mention.
Catherine Grosdidier, Eudora — Named to the second-team all-Frontier League team, Grosdidier averaged 11 points per game in her senior season. The talented 5-foot-6 guard led the Cardinals to a 12-10 record and a spot in the sub-state title game.
Talima Harjo, Lawrence — When the Lions needed a spark on offense, Harjo usually stepped up with key 3-pointers. The senior sharpshooter averaged 8 points and 3.5 assists per game, picking up third-team all-Sunflower League recognition.
Jenna Keller, Perry-Lecompton — Keller drew plenty of attention from opposing defenses with her ability to control the Kaws' offense. The sophomore all-Big 7 League selection averaged a team-best 10.1 points, adding 4.1 rebounds per game.
Caely Kesten, Free State — A reliable point guard, the Firebirds' sophomore was picked third-team all-Sunflower League.
Kesten averaged a team-best 10.8 points, shooting 39 percent from behind the 3-point arc and recording 3.6 rebounds and 2.8 assists per game.
Kayla Kurtz, Baldwin — Kurtz was a first-team all-Frontier League choice with her ability to score quickly. Averaging 12.7 points and 2.4 steals per game, the 5-foot-5 small forward was among the team leaders with a 42.8 shooting percentage from the field.
Carly Lindenmeyer, Baldwin — A key contributor on both sides of the floor, Lindenmeyer combined for 18 points in the state semifinals and state title game.
The 5-foot-8 junior guard filled the stat sheet with 7.0 points, 2.2 assists and 2.9 steals per game.
E'lease Stafford, Lawrence — Signed to play at East Tennessee State, Stafford shined on both sides of the floor during her senior season.
The 5-foot-11 wing earned first-team all-Sunflower League honors for the third time, averaging 15.7 points, 6.8 rebounds, 2.8 assists and 2.2 steals.
Honorable mention
Riley Hiebert, Eudora; Haley Hippe, Free State; Sam Lawrence, Free State; McKinley Markley, Baldwin; Kate Ogle, Baldwin; Hannah Stewart, Lawrence; Reilly Stewart, Baldwin.