Marathon man: Tonganoxie resident completes 2nd Boston Marathon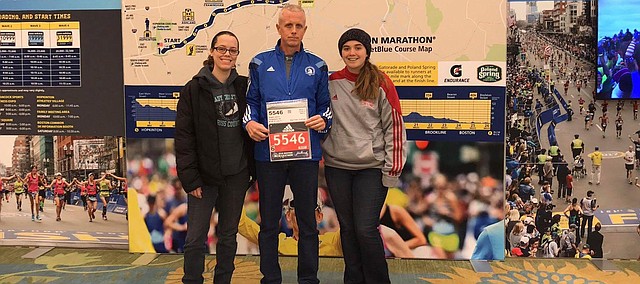 A marathon can be a nerve-racking experience even for the most experienced runner.
The preparation, the grueling 26.2 miles itself.
For Jack Angell, he most feared a bite from the flu bug— especially with the recent Boston Marathon.
After all, running is an investment. The travel, the lodging and the registration in the marathon itself.
And, despite the cruddy weather April 16 in Massachusetts — rain, sleet and all — Angell was able to complete the Boston Marathon.
In fact, he finished with a better time this year as opposed to last year when the weather was perfect.
"I was 15 minutes faster than last year, but I was still pretty slow all around," Angell said with a laugh.
He finished the marathon in 3 hours, 52 minutes.
"Just under four hours," he said. "Which is what I wanted last year, but it didn't work out that way."
This is Angell's 10th official marathon — an 11th was unofficial, as he ran to Kansas Speedway and back with wife, Christy, parking at designated spots along the highway with water.
He's competed in marathons in Kansas City, Wichita, Omaha, Neb., and Des Moines, Iowa.
Though he's proud to compete in the Boston Marathon, he said his biggest achievement was completing the I-35 Challenge by running in the Kansas City Marathon and then the Des Moines Marathon about a week later. It can be tough to recover that quickly, but Angell was able to do both.
Back in Boston
Angell said he wished he had more time during the Boston trip to explore that city. His two visits there have been all about running. About 35,000 people participate — including one entry, Loren Zitomersky, who ran backwards in an attempt to break a Guiness World Record. He finished the race, but missed the record by about two hours.
Angell said all runners are bused from a park near the finish line to a school about 3/4 of a mile from the starting line. Runners start the race in "waves," as about 8,000 runners move into position for each wave. Angell wasn't in the top group, but his color-coded number card wasn't too far behind the top group.
His number card was red, which matched his shirt. Angell was sure to wear a Tonganoxie shirt both years. He heard words of encouragement along the way and — believe it or not — proper pronunciation of "Tonganoxie" on most occasions.
Ready to run
Angell, who will turn 47 in June, said he wished he would have gotten into running earlier in life. Cross country didn't interest him in high school, but now he wishes it would have. Daughters Samantha and Sydney are on the Tonganoxie High School cross country squad, so sometimes Jack the avid runner turns into Dad the avid cross country supporter.
Angell said he started running in local 5Ks a few years ago. However, he didn't like his times, nor did he enjoy being passed by many people.
He started running more and more while reading inspiring books about running in the process.
"I lost a lot of weight," he said. "I think my age worked against me. When I was younger, I wouldn't be quite as achy.
"You get used to it."
In 2013, he logged right at 2,000 miles. In 2014, he ran a bit more than 2,000 miles. In 2015, that number jumped to 3,000 and then in 2016, the number ballooned to 5,000 miles for the year — that averaged out to about a half-marathon everyday, Angell said.
Whenever the weather gets cruddy, Angell heads for the treadmill inside his house. With the last few months as they were, Angell was hitting the treadmill often.
He said that might have not been the best way to prepare for Boston this year with its inclement weather on race day, but it all worked out.
His family was there to cheer him on in Boston, something that Angell cherished.
"Christy and the girls have been really patient on this," Angell said. "I've had to dedicate a lot of time to get ready for them (marathons). Travel and stuff."
Wherever the marathon, they likely will continue to be on the sideline cheering him on in future endeavors.
As for the Boston Marathon and it's start in the countryside to the eventual finish line in the heart of the city, Angell was quick to point out his favorite part of the 26.2-mile journey.
"The last mile was my favorite because you're running in town," he said with a smile.