Hoping for more rain: Sunflower fields trying to shine despite extremely dry conditions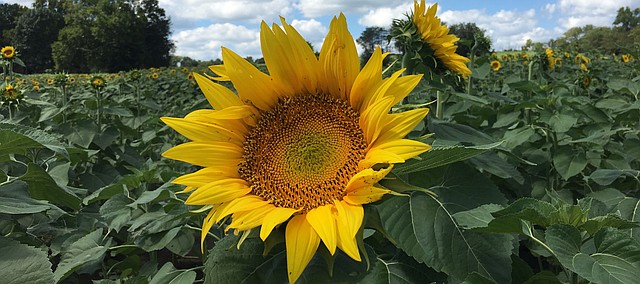 TONGANOXIE — The sea of sunflowers at Grinter Farms has been a mainstay of Labor Day weekend in recent years.
Right now, it's a much different sight. Until this past week, rain hasn't been finding the farm just off U.S. Highway 24-40 between Tonganoxie and Lawrence.
Finally, there was rain.
It already has been a help, as sunflowers are shooting up, according to Kris Grinter, who shared the update recently at the Tonganoxie Business Association meeting.
"Any more rain we can get would be great," Ted Grinter told fellow TBA members.
He also warned that the sunflowers might not be at optimal photography levels. He hopes they will be growing and growing, but the sunflowers might not be in full bloom come Labor Day weekend, Sept. 1-3.
The nice thing for the thousands of people who visit each year is that Kris updates the Grinter Farms Facebook page on the sunflowers' progress throughout the summer.
Asked if irrigation was an option, Ted told the group it wasn't feasible — it likely would take 20,000 gallons per acre. The Grinters have 35 acres of sunflowers. In the many years the family has been farming, an irrigation system hasn't been needed.
On Monday, Kris Grinter said sunflowers were starting to pop out of the ground. The recent cooler weather has also helped the outlook for the plants to again be on course for Labor Day blooms.
The farm got a little over half an inch of rain last week, but another rain in the area during the weekend didn't offer any additional relief.
"It was a spit's worth," Kris said. "Enough to make the pavement wet, but not enough to measure anything in the rain gauge."
That said, despite the dry summer the Tonganoxie area is having, things are looking up a bit.
"All these little sunflowers have to do is break through the ground before it gets hella hot and we're pretty confident it's going to happen," Kris said. "The rest of them are coming."
Ted, anticipating the hotter, drier summer, planted the seeds a bit deeper — 2 inches instead of an inch — when planting got started July 10.
That rain last week probably would have done wonders for the many acres of sunflower plantings.
But you just never know what's going to happen.
"It's a crap shoot," Kris said.
Still, the Grinters seem to have hit the jackpot in recent years. Somehow, some way, the flowers have had a majority blooming the last few years precisely on Labor Day weekend.
"The only thing they have to do now is bust up out of the ground before the ground crusts over," Kris said of the remaining seedlings.
Berryhill sunflowers progressing well
Jay Shively with Berryhill U Pick Farms has some sunflowers knee-high so far this season.
The farm is near Lake Shawnee, about 20 minutes from Lawrence.
Shively is anticipating blooming in mid-August, though a post Tuesday morning on the farm's Facebook page that blooms might come earlier this year. There also could be smaller blooms and shorter stalks because of less rain this summer, according to the Facebook post.
"We need rain bad in this stage!" the post read.
Shively planted his 10 acres in four stages, starting June 15, each in 2.5-acre intervals. He also has been doing some hand weeding in some areas, but the bottom line: "We're hoping for a big rain," he said.
The farm also has watermelon, cantaloupe and now strawberries for visitors to pick.
He planted about 20,000 strawberry plants a year ago in September.
The addition of sunflowers has complemented the sale of that produce with social media interest and following of the sunflowers.
"It really helped a lot," he said, noting that he has had visitors from as far away as Oklahoma and Texas.
Lawrence sunflowers
The past two years, George and Cheryl Hunsinger have planted 6 acres of sunflowers on their farmland just south of Lawrence at 923 E. 1450 Road.
George Hunsinger couldn't be reached for comment about this year's crop, but a visit to the field showed sunflowers again were popping up, with some about 3 to 4 feet in height as of Wednesday.