Remember When: A Community Review for Aug. 1, 2018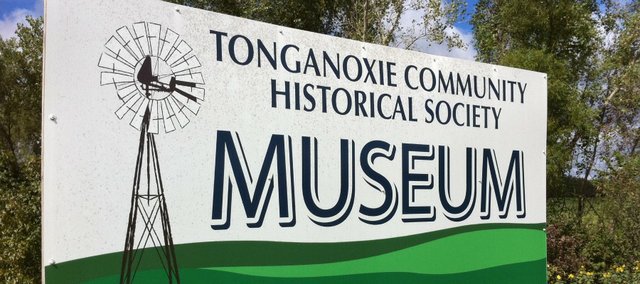 10 years ago: July 30, 2008
Family and friends gathered Thursday at VFW Park to honor Ron Starcher. Cars that Starcher had worked on, as well as other cars belonging to people he knew, were on display as part of a remembrance to him. His daughter, Lindsey, estimated that 700 people attended a visitation that was held Wednesday, July 23.
The 82nd annual Leavenworth County Fair will have some significant changes in scheduling for this year's installment, slated for Aug 12-16 at the Leavenworth County Fairgrounds in Tonganoxie. Main events during some of the evenings have been moved up a day. For instance, the fair parade through downtown Tonganoxie that eventually progresses to Evans Street, which is north of the fairgrounds, will be held Tuesday, Aug. 12. In previous years, the event was held on Wednesdays. As in the past, the draft horse pull will follow the parade.
Tonganoxie VFW Post 9271 will have its annual garage sale at the post home, 910 E. First St., this week. The sales will be from 8 a.m. to 5 p.m. Thursday, Friday and Saturday.

25 years ago: Aug. 4, 1993
The Chamber of Commerce meeting was held July 29 at the Wander In. The meeting was highlighted by a fashion show given by Phyllis Crabtree, in which models displayed the distinguished fashions available at her clothes store, Tonganoxie Treasures for Her. Earleta Morey, a member of Friends of the Library, spoke of the need for money to be raised, pointing out that the library's budget of $23,000 per year is not nearly enough to maintain a library which services 12,000 people annually. She spoke of selling a Monopoly type game with the names of local businesses on its board.
Classes are now forming for the fourth Southern Leavenworth County Leadership Development Program scheduled to being on September 15, 1993. The purpose of the program is to develop and nurture future community leaders through the guidance and assistance of our present leadership and regional resources.
50 years ago: July 28, 1968
The Ratliff Drug Store is now under the managership of Mr. And Mrs. D.W. Ratliff II. D.W., as he is known to his former schoolmates is the new druggist.
Ethel Merman struts cross the Starlight Theater Stage this week in "Call Me Madam" as an arrogant American, a loveable character, a dynamic ambassador, a hostess without peer and a great lady with an extravagant wardrobe.
The one room school house of rural America is rapidly vanishing from the scene. But before they are all destroyed, a typical school will be placed at the Agricultural Hall of Fame in Bonner Springs. The building is the first of the Hall of Fame's Pioneer Village.
Big Stranger was running bankful today, with water out in low places. The Kansas River also is up but within its banks. July has been a very wet month with rainfall in excess of ten inches in most areas. The wheat harvest was mostly in before the rain started, but the rains came just right for the corn.
75 years ago: July 29, 1943
We are, on occasion, pressed to report sad news. Mr and Mrs Sam Huntley of Linwood received notice that their son, Irving (Red) Huntley has passed away from leukemia. Sgt Huntley has been serving somewhere in Africa and became gravely ill. His death came as a great shock to the family.
Our community has a little "farmerette" on the J.W Seaver farm. Frances Seaver, thirteen years old, can drive a truck, a car, or a tractor and is assisting with all of the farm chores. She is currently working the threshing machine and can manage the harvest quite nicely.
Can your fruits and vegetables now, is the message from Uncle Sam. It helps with the war effort and saves food points in those ration books. Harvest all your produce as the processed foods are being sent to the fighting fronts. If you need help, call the Gas Service Company, Home Service Department. Someone will assist you right away.
Speaking of those ration books, shop IGA local store Mann's. The points are plainly marked and the sales people know the answers to all your questions. Shortening is only $.25 and five points for a pound package. This is the time to start making those fruit pies for the fair and family picnics.  
While we wait for the summer months to end, enjoy a movie at the Royal Theater. This week is showing "Mrs. Wiggs of the Cabbage Patch" and "The Navy Comes Through".  Two great feature films to see.
100 years ago: Aug. 1, 1918
The historic Tonganoxie farm where the old chief Tonge-Noxie lived and had a tavern in the old stage days before the railroad, changed hands again this week. John Todd, who got the farm less than two years ago, has disposed of the place to F.M. Smith. The Tonganoxie farm contains 80 acres.
Dr. Jennie E. Van Epps reports the birth of a daughter at the home of Mr. and Mrs. Fred Reed, four miles west of town.
Sunday evening after church services, when the storm was coming up, a cloud of dust obscured things near the Methodist Church. Fred Needham, who was returning home in his car, and Perry Walters, also driving a car coming home from Lawrence, had a collision. Both cars were near the center of the street, and neither could see the other for the dust. Fred Needham's car had one wheel taken off and a fender damaged. The other car was slightly damaged, but no one was hurt.
125 years ago: Aug. 3, 1893
As far as we learn the following selection of school teachers has been made to teach the coming winter:
Friendship Valley, Miss Etlie Bridges; Smith's, Mrs. J.A. Duty; Hawk Hollow, Will Reno; Coal Ridge, Oliver Phillips; Valley, Miss Addie Campbell; Eagle, Murray Eggleston; Euroka, Will George; Pony Creek, Wes Caulk; Faulkner, Ripley Petherbridge; and Dafer, Duff Phillips.
An overdose of joint whisky precipitated a street brawl Saturday evening that resulted in an arrest. For a few minutes everything was lively, which of course, again goes to show as whisky defenders claim that joints make a town lively. William Ryan, a resident of Nine Mile, got full at one of the joints and pulled a revolver on Patsey Mulderg. He subsequently claimed he was trying to pull his handkerchief out which happened to be underneath the revolver in his pocket.
Monday morning, he held a short interview with the police. Judge Mulderg refused to prosecute, and the defendant pleaded guilty. He was fined $1 and costs, his escapade costing him about $10.