Leadership Southern Leavenworth County seeking applications for 2018-19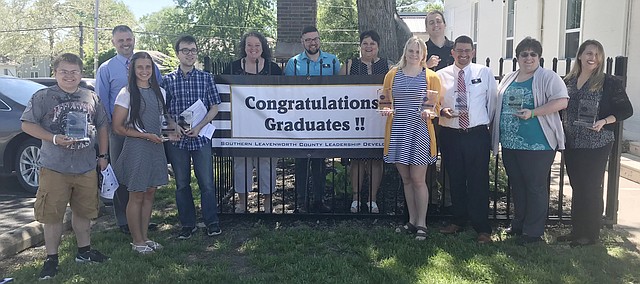 From high school seniors to former and current elected officials, Leadership Southern Leavenworth County has "graduated" many familiar faces with a wide range of backgrounds in this part of the county.
Formerly known as Southern Leavenworth County Leadership Development, the community leadership program got its start in 1990.
The organization, which is seeking applicants for the 2018-19 class, gathers monthly starting the second Wednesday in September.
The class meets the second Wednesday of the month through April and then gathers for a graduation luncheon May 1 at Magdalenas in Tonganoxie.
Some classes will meet at the Basehor Community Library, such as the opening class, which covers orientation, personality colors and how people gather and give information differently.
From there, the class focuses on teambuilding (Breakout Leavenworth), military (Fort Leavenworth), city government (rotates among Tonganoxie, Basehor and Lansing), education (rotates among Tonganoxie, Basehor-Linwood and Lansing), county government (Leavenworth County Courthouse and Leavenworth County Justice Center), prison system (Lansing Correctional Facility), state government (Kansas Statehouse), federal court case (Brown v. Board of Education National Historic Site) media (Lawrence Journal-World) and federal government at-a-glance (Robert J. Dole Institute of Politics).
The class sessions take students to notable locations throughout the area while applying leadership competencies established through the Kansas Leadership Center.
While working to improve one's leadership skills and understanding of those skills, the class is designed to also apply those skills to the aforementioned areas of southern Leavenworth County and the region.
Students also will be broken into groups and tasked with creating a community service project. Previous projects have created a cleanup day at the various school districts, a pet health day, a cleanup day at Leavenworth County State Fishing Lake, signage and other cosmetic improvements, along with organizational updates at Good Shepherd Thrift Store and Food Bank, assistance to the Council on Aging and elderly residents in general, a fundraiser at Holy-Field Winery, signage at the Leavenworth County Fairgrounds, drives to provide care packages to those in need and improvements at Tonganoxie Skate Park, to name a few.
Tuition is $200 for the class. Applications can be found online at the Leadership Southern Leavenworth County's Facebook page and other local places, such as Tonganoxie City Hall.
All applications must be received by the end of this month.