Number speaks volumes for new Tonganoxie restaurant: 1866 Bar
&

Grill namesake a nod to town's history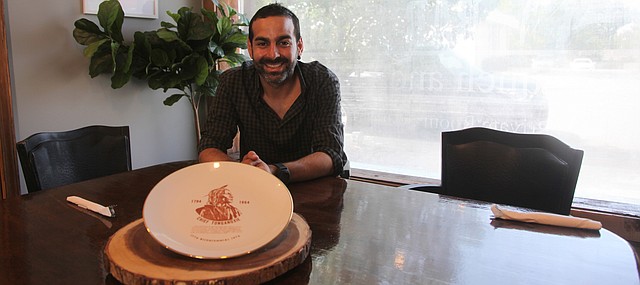 Tonganoxie's newest restaurant almost celebrated on the date of the anniversary of its namesake a few weeks ago.
The new business, 1866 Bar and Grill, pays tribute to the year Tonganoxie was established.
In fact, the town got its official start July 21, 1866.
The new restaurant opened July 16, nearly 152 years after the town got its start.
Owner Alberto Yaluk took over the downtown space in mid-February. He could have opened much earlier, but he wanted to give the place a new look.
The restaurant now, as Yaluk calls it, is in the style of "classy country."
There is a new bar at the back of the restaurant, the outdoor patio area is ready for customers and a room to the west of the main area, which has served various purposes, now can be used as a meeting room for groups. A large, wooden sliding door with a window separates the two rooms when necessary.
During an interview Monday, Yaluk was quick to point out a prized centerpiece in the meeting room — a commemorative Chief Tonganoxie plate that Kay Soetaert had given to him.
"We decided to make our own idea and we tried to change the atmosphere of the place," Yaluk said. "After generations of this place being opened, we just really wanted to redo it and make it different."
A new style
Formerly a general manager at La Parrilla in Lawrence, Yaluk's menu has various inspirations.
Fellow owner Alejnadro Lule, who is the main chef at 1866, also owns La Parrilla, Zen Zero and Genovese in Lawrence.
He worked at restaurants in California and brings some of that flare to Tonganoxie.
"We tried to put together a menu that we think was going to play well, combing some California cooking with kind of the local Midwest," Yaluk said.
The menu offers burgers, a Cuban sandwich, a panini, pasta, shrimp, fish, chicken fried steak, steak options and salads.
Patrons also can start off with fried pickles, nachos or mozzarella sticks.
The menu even has a touch of New Orleans.
For dessert, the beignet is on the menu. Yaluk said that item hasn't been available just yet, but he expects it to be available this week.
"We noticed pretty much everything is selling pretty even, but chicken fried steak with mashed potatoes and gravy is doing really, really well."
Well-traveled
Yaluk, who is 33, has lived a few places so far.
He was born in Paraguay and then moved in 1996 to Nicaragua. In 2004, he moved to North Dakota and then in 2005 was off to Alabama. He went to Jacksonville State University where he earned a degree in marketing. In 2011, he moved to Lawrence.
He said studies and soccer took him various places along the way.
Brothers and sisters went to school in Lawrence, which eventually drew him there. He moved to North Dakota to play soccer at the collegiate level, but opted to end his soccer career and focus on studies.
"It was extremely cold," Yaluk said with a laugh about North Dakota. "I always liked Lawrence since I went to visit. I thought it was a pretty interesting town.
"There is a lot of diversity. It's very open-minded."
As much as he loves Lawrence, Yaluk wants downtown Tonganoxie to have a different identity.
The restaurant is open 11 a.m.-9 p.m. Monday through Saturday and 11 a.m.-2 p.m. Sunday.
Seating along the east wall fosters conversation across parties. One side of seating is a long booth, the other chairs.
Yaluk noticed people who appeared to be church members coming in this past Sunday. They all sat in that area and had conversations across tables in the "family style booths," as he Yaluk calls them.
Family fun
The idea of family is apparent when one walks in the door. At some point during your visit, Yaluk likely will greet or say goodbye with a handshake or even a hug.
"I still want to say we're in the process of people still coming to know our food and atmosphere," he said.
There often are daily specials, including a New Mexico burger with green chile sauce, a nod to the late Jack Cronemeyer, who operated the establishment as Badd Jack's years ago.
Yaluk has sold his green chile at the Lawrence Farmer's Market and also uses it as an ingredient in his food truck.
Since the days of Badd Jack's, 416 E. Fourth St. has been home to a few different restaurants, including Bullfrog Bar and Grill, Bitler's, West End Cafe and most recently, Talette's Cafe.
Yaluk's staff is about 15 strong, with five being employees when the space was a cafe.
The restaurant seats about 55-60 in the main indoor area, 20-25 on the patio and 16-18 in the meeting room.
Yaluk hopes his restaurant will be one more reason for people to visit the downtown area. He thinks there's a lot of potential in the Fourth Street vicinity.
At night, 1866 complements Myers Hotel Bar and Ryan's Public House. Customers can have food and drinks at 1866 and then check out Myers Hotel Bar and Ryan's Public House for more socializing, beverages and even snacks at two "pretty nice places."
It's those offerings that Yaluk hopes can bring that potential to the downtown area and give the business district a special identity.
"We try to fit into a category where we're not trying to look like Lawrence here," he said. "We're trying to make our own style."