Karleskint, Dove andvance in respective primaries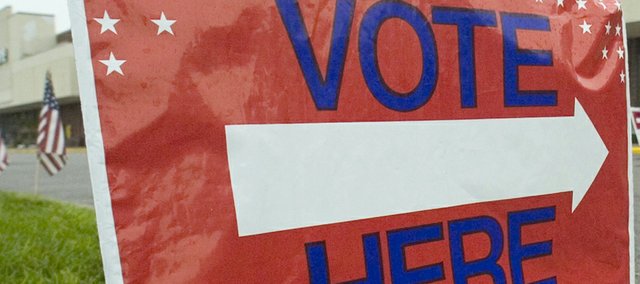 As the state waits to find out a winner in the Republican pimrary race for governor between Gov. Colyer and Secretary of State Kris Kobach, many other races were set after last week's election Aug. 7.
State Reps. Jim Karleskint, R-Tonganoxie, and Willie Dove, R-Bonner Springs, held off challengers Lance Neelly and Noel Hull in the 42nd and 38th districts, respecitvcely.
Laura Kelly breezed her way to a Democratic primary victory in the governor's race, as did Debbie Deere in another Democratic primary — state representative in the 40th District.
Though state Sen. Steve Fitzgerald did well in his home county, he only garnered 12 percent of the vote in the entire district in his bid for a U.S. House seat.
Ballot numbers became official after the Mirror's print deadline Tuesday. Leavenworth County officials canvassed the ballots Tuesday.
Kobach's lead in the Republican primary for governor was about 200 votes Tuesday morning, as counties continue to count provisional ballots.
REPUBLICAN PRIMARY
• U.S. Representative, 2nd District
Steve Fitzgerald, 2,970 (40), 9,137 (12)
Steve Watkins, 1,624 (22), 19,822 (27)
Caryn Tyson, 955 (13), 17,567 (24)
Kevin Jones, 614 (8), 11,075 (15)
Vernon J. Fields, 662 (9), 1,961 (3)
Dennis Pyle, 374 (5), 9,033 (12)
Doug Mays, 181 (3), 6,613 (8)
• Governor
Kris Kobach, 3,847 (51), 127,391 (41)
Jeff Colyer, 2,566 (34), 127,253 (41)
Ken Selzer, 371 (5), 24,561 (8)
Jim Barnett, 491 (7), 27,719 (9)
Patrick Kucera, 154 (2), 3,164 (1)
Tyler Ruzich, 57 (1), 2,245 (1)
Joseph Tutera Jr., 31 (0), 1,536 (1)
• Secretary of State
Scott Schwab, 2,653 (39), 107,498 (38)
Craig McCullah, 1,195 (18), 32,162 (12)
Randy Duncan, 1,107 (16), 56,564 (20)
Dennis Taylor, 1,067 (16), 55,972 (20)
Keith Esau, 712 (11), 28,059 (10)
• Insurance commissioner
Vicki Schmidt, 4,021 (57), 151,052 (52)
Clark Shultz, 2,899 (43), 139,206 (48)
• State Representative, 38th District
Willie Dove, 1,234 (59), 2,027 (64)
Noel Hull, 856 (41), 1,142 (36)
• State Representative, 42nd District
Lance Neelly, 915 (47), 1,174 (47)
Jim Karleskint, 1,038 (53), 1,341 (53)
• County Commissioner, 1st District
Jeff Culbertson, 1,010 (48)
Mike Carney, 480 (23)
Charles Raney, 400 (19)
Dave Spangler, 228 (11)
• County Commissioner, 2nd District
Vicky A. Kaaz, 794 (38)
Chad R. Schimke, 689 (33)
Michael Spickelmier, 587 (28)
DEMOCRATIC PRIMARY
• Governor
Laura Kelly, 2,284 (60), 79,301 (52)
Carl Brewer, 557 (15), 30,885 (20)
Joshua Svaty, 498 (13), 26,890 (18)
Arden Andersen, 370 (10), 12,915 (8)
Jack Bergeson, 126 (3), 3,874 (3)
• State Representative, 40th District
Debbie Deere, 1,020 (90)
Donald G. Terrien, 118 (10)
• County Commissioner, First District
Nancy Bauder, 887 (73)
J. Glen Berry, 330 (27)