Tonganoxie author bringing fruits and veggies to life in new children's book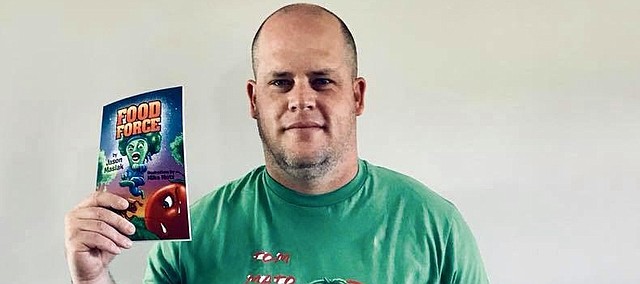 Some doodling during a college course years ago has led to a Tonganoxie man's latest accomplishment: published author.
Jason Maslak said that when he did some drawing in a class at Kansas City Kansas Community College.
"I was trying to do my own TV show with characters and came up with vegetable characters," he said.
The idea, though sat dormant for several years — until Maslak had children.
In an effort to get his children to eat healthy, Maslak attached story lines to menu of the day at home.
"I made fruits and vegetables something fun instead of 'eww, gross, broccoli!' Maslak said. "They thought it was pretty neat."
And through a combination of inspirations, Maslak came up with "Food Force," a 44-page children's book about the adventures of everyday vegetables.
There's Broc Li, and Gus Aspara. Oh, and Tom Mato.
Broc Li is martial artist. The character is a nod to Bruce Lee, whom Maslak idolized in his younger years.
Emerson, 10, who is the oldest, actually came up with Tom Mato during a trip to the grocery store. He and his wife, Stacy, have two younger children, Taylor, 9, and Bodee, 7. Bodee likes to try some karate moves like Broc Li.
As he was contemplating the book, Maslak thought the literature could have some creative and educational value.
"Maybe this could be something fun the kids would look at, like vegetables, and think of something other than 'oh gross,'" he said.
Maslak went online and found Mike Motz, an illustrator from Kansas.
The illustrations captured Maslak's story so well that he's even made T-shirts adorned with his Food Force characters.
Now 39, Maslak grew up near where Kansas Speedway is now in Kansas City, Kan. He's lived in Tonganoxie for 13 years.
He works at Menorah Medical Center in Overland Park as an MRI and X-ray technologist.
After his stint at KCKCC, Maslak graduated from Colorado Technical University for his X-ray technician coursework and then Washburn University for his MRI certification.
He also is involved in the Tonganoxie community, as he coaches youth baseball and football around Tonganoxie, "which is really fun," he said.
As for the Food Force saga, Maslak is working on a second book to continue the adventures of the first installment.
"I have some pretty fun stuff planned for that one, to," he said.
The local resident thought the book probably was around a second-grade level.
"It's more of a chapter book than short picture book," he said.
Maslak said he's always wanted a garden and is eyeing that endeavor.
When it comes to eating vegetables, though, Maslak might have benefited from his own book in his formative years.
"I was a picky eater growing up, just like my kids are," he said. "The older I get the more things I try and think 'oh that's not so bad.'"
His children suggested a coloring book based on the "Food Force" books, so that also might be on the horizon.
For now, the book can be purchased through Amazon as Maslak hopes it inspires others — and himself — to eat healthier.
"I could stand to eat more fruits and vegetables," he said with a laugh.