Tonganoxie City Council OKs plans for Casey's final plat, approves industrial bond issuance, delays decision on daycare zoning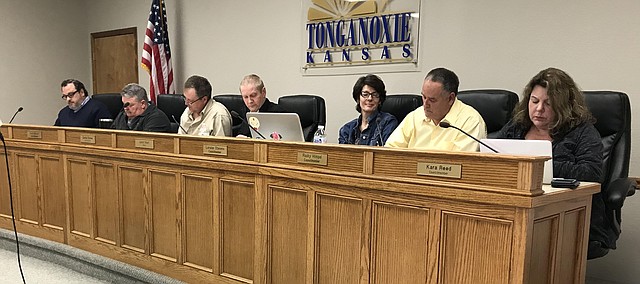 A new Casey's General Store cleared a notable benchmark.
The Tonganoxie City Council approved, 4-0, a final plat for a new project for the convenience store chain.
The store is to be built in the area generally between Fifth and Sixth streets on the west side of U.S. Highway 24-40.
Building permits will be issued contingent upon Kansas Department of Transportation approving the highway permit and the Kansas Department of Health and Environment approving construction plans.
The project will include some revamping of U.S. 24-40 to allow essentially for a middle turning lane and other highway improvements near the property.
An official representing the project told the council the project also met guidelines for KDOT's corridor plan for that area.
Council approves ordinance for $9.12 million in industrial revenue bond issuance
The council approved an ordinance authorizing use of $9.12 million in industrial revenue bonds to Bright Star Properties for a project involving the revamping of a 10,000 square-foot retail/office commercial building, 37 market-value residential duplexes, six self-storage units and parking.
Renovations to the building, just east of Brothers Market, have started.
The other two projects will be built south of that building.
City Manager George Brajkovic noted that the city also would receive a bond origination fee of 0.25 percent of the principal amount of bonds issued up to $10 million simultaneously with the issuance of the bonds.
That could be as much as $23,000 for the city, based on the cap.
City delaying decision on daycare zoning ordinance
The Tonganoxie City Council will hold off on a decision on an ordinance that would allow light industrial zoned areas to include daycare centers.
City Manager George Brajkovic told the council some requested information on state regulations and other stipulations for daycares wasn't available yet for Monday's meeting, but will be addressed at an upcoming meeting.
The council next meets at 7 p.m. Sept. 4 in council chambers, which is the day after Labor Day.