Tonganoxie soccer team has state on its mind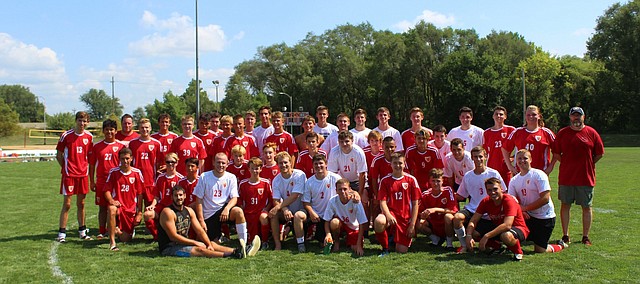 The current Tonganoxie High boys soccer team got a crack at a THS alumni team Saturday at Chieftain Park.
Second-year coach Jon Orndorff got to see some of his former players from last year and other recent alumni take on the current squad.
The friendly match ended with the alumni getting the victory, 9-2, but it was another opportunity for the 2018 edition of Tonganoxie soccer to get some more experience.
After all, there are eight spots up for grabs from last year's senior-laden squad that won the last Kaw Valley League title, finished the regular season unbeaten and then finished the season one step away from another state berth.
"It's a good learning experience," Orndorff said about the alumni scrimmage.
The coach said the current team has a lot of work to do, but Orndorff also is implementing a new system.
After looking at film, the coach found players making some wrong reads, but they also were creating some good opportunities.
"They were one or two steps away from it clicking for them for sure," Orndorff said. "The guys all have a goal. State is their goal.
"They won't settle for anything less."
The Chieftains lost 11 seniors total from last year's squad, which went 16-1-2 to capture a second straight regional title. The 16 wins matched the most in program history, including postseason victories against Eudora and Maranatha Christian Academy before losing to Rose Hill, 4-2.
On the plus side, there are many positions up for grabs, so competition is heightened.
Orndorff looks for returning captain Gage Sommer to lead the squad.
Plus, Sommer is one of nine seniors back for a final year, so the squad does have returning experience. Desi Wagner, Garrett Eason, Jacob Boone, Jared Bothwell, Kowa Witt, Logan Freeman, Matt perich and Wyatt Martin also are seniors this fall.
"With so many positions opened up, they're all pushing each other," Orndorff said. "State is their goal, state is where they want to be and that's where they want to go."
THS opens the season at 6 p.m. Friday against Kansas City Christian in Prairie Village.
The team then is at home Tuesday against Maranatha Christian Academy and then home again a week later, Sept. 4, against Atchison.
Tonganoxie's first Frontier League match will be Sept. 6 at home against Paola.
THS matches can be seen on YouTube. To find the matches, search "Tonganoxie soccer."
Orndorff expects Louisburg and Spring Hill to be contenders for a Frontier League title, but he has Piper, which along with Bonner Springs and THS left the KVL for the Frontier League, as the favorite.
"This should be Piper's year," Orndorff said. "They've been young for so long.
"I believe Piper is going to start clicking."
Red-White scrimmages scheduled for Friday
While the soccer team gets the regular season started Friday, cross country, volleyball and football will have Red-White scrimmages that night.
The girls golf team opens the seasons Aug. 30 with a 1 p.m. tournament at Lake Perry Country Club. Jeff West is the host school for the tourney.
Volleyball also opens the season Aug. 30 with a 5 p.m. varsity triangular against Sumner and Spring Hill.
Football, meanwhile, gets started with a road game Aug. 31 in the season opener against Basehor-Linwood.
Varsity cross country gets the season started Sept. 8 at Wamego, the same day volleyball is at a tournament at Holton.
Football has its home opener the night before in its first Frontier League matchup as a member of the new conference. THS takes on Louisburg that night.
Tonganoxie football and boys soccer are coming off record seasons.
Like the boys soccer team, THS football won the final Kaw Valley League title and was unbeaten in the regular season.
After more than 30 years as a member of the Kaw Valley League, Tonganoxie enters its first season as a Frontier League member in the coming weeks. Fellow KVL teams Piper and Bonner Springs will join THS with Frontier League mainstays Baldwin, Eudora, Louisburg, Ottawa, Paola and Spring Hill.
De Soto, which jumped in 2003 from the KVL to the Frontier League, is again moving to another conference.
Former KVL teams Lansing, Basehor-Linwood and Turner join De Soto, Leavenworth and Shawnee Heights in the United Kansas Conference when seasons start later this month.
Look for schedules for all THS fall sports teams in the coming weeks at tonganoxiemirror.com.