Tonganoxie
USD

464 budget approved; raises and personnel recommendations

OK

'd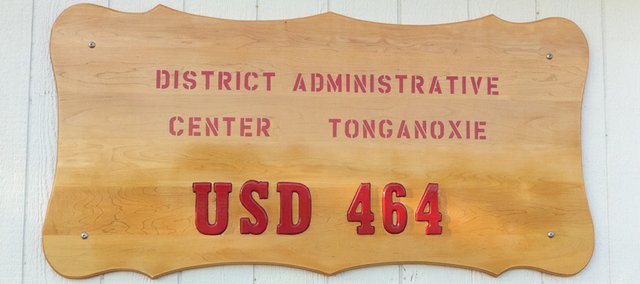 The 2018-19 Tonganoxie USD 464 budget has been approved.
Board members met for a public hearing in a special meeting Monday and then approved the budget, which calls for a mill levy that will be just a bit lower than the district's 2017-18 rate and about the same rate as 2016-17.
The school board approved the budget at a special meeting Monday night.
For 2018-19, the proposed rate is 60.418 mills. The 2017-18 rate was 60.456 and 2016-17 was 60.415.
In 2015-16, the mill levy was 60.402.
The 2018-19 general operating budget is set at $12,208,865. That's up from 2017-18's $11,542,230.
In 2016-17, the district had new facilities weighting with the new elementary school.
The operating budget was 12,628,653 and $14,801,840 in 2015-16, which also had new facilities weighting.
The 2017-18 school year was the first without the new facilities weighting for the district.
Contract work agreements approved Monday
The board approved contracts and work agreements for Kalli Kruse, Tonganoxie High girls basketball assistant coach; Carley Smith, Tonganoxie Middle School special education para; Rochelle Lukens, van driver; Trevor Kincheloem boys soccer assistant coach; Michelle Wolfe, THS west campus secretary; and Tammy Rose, Tonganoxie Elementary student nutrition.
Raises approved
The school board approved the recommendation at its Aug. 13 meeting to approve returning certified administrators receive a 1.15 percent salary increase, a 5 percent increase for THS assistant principal/athletics director, a 1.15 percent increase for salaried classified staff and hourly classified staff a $0.15 per hour raise.
Hirings, resignations and new positions approved at Aug. 13 board meeting
Several personnel recommendations were accepted at the Aug. 13 meeting. Approved hirings were John Parker Ast, TMS assistant wrestling coach (replacing Ross Starcher); Blake Thronburgh, eighth grade boys basketball head coach; Tyler Hall, seventh-grade boys assistant basketball coach; Jill Rogers, TES special education para (replacing Dawn Stites); Sara Schiller, THS lead custodian; and Brandy Minshall, student nutrition cashier.
Resignations were approved for Dawn Stites, TES special education para; Lisa Christensen, THS west campus secretary; Suzanne May, regular route driver; Debbie Mitchell, TES custodian; and Sara Schiller, transportation para.
New Positions for THS team leads were approved. Those new leads are John Tollefson, science; Cathy Cox, math; Jean Willson, English; Pam Arevalo, electives; and Jodie Smith, CTE.
Tailgate party to serve as meet-and-greet
A meet-and-greet with new Tonganoxie USD 464 Superintendent Loren Feldkamp and other members of the district's administrative team will take place Friday as a part of a tailgate celebration before the Tonganoxie High football Red-White Scrimmage.
The event, which will feature door prizes and free food for the first 300 guests, will be 6-7 p.m. Friday near Beatty Field. Tonganoxie City firefighters will be serving the meal.
Members of the Tonganoxie High School Marching Band and the band's drumline also are scheduled to perform