Madrigal Feaste is Dec. 7 and 8 at
TMS

Commons Area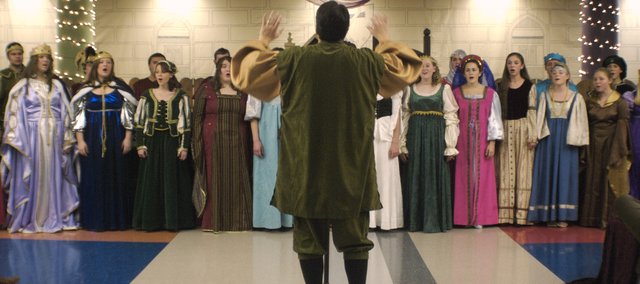 The return of merriment, wassail and the Boar's Head is coming.
This year's Madrigal Feaste will be 6:30 p.m. Dec. 7 and 8 at the Tonganoxie Middle School Commons Area.
Now in its 17th year, the popular holiday season event features the choirs of Tonganoxie High School in a re-creation of a dinner thrown by a royal family from the Renaissanc Era replete with musical performances, fine food and not-so-high theatre.
THS Chieftain Singers, Treble Choir and Concert Choir are Tonganoxie's trio of choirs.
This year's play is called "The Twelve Days of Christmas," by Jim and Jane Jeffries.
Cast for this year's play is Brendan Rogers as the jester, Lauren Lawson as Fiona, Harrison York as the Town Crier and Alex Falk as King. Delaney Spellman is Queen and Ashtin Barnes has the role of Princess Anne.
On the menu next week will be Wassail, barley soup, ham steak with roasted potatoes and green beans. And for dessert, fruit tart.
No tickets will be sold the nights of the show. Reservations must be made in advance.
All seats are $15 for a four-course meal, comedy, pageantry and musical performances. Call 913-416-1460 (ext. 2045) or email tgifford@tong464.org for more information.