Rise and shine for honorary Tonganoxie Phil: Early spring, Jones predicts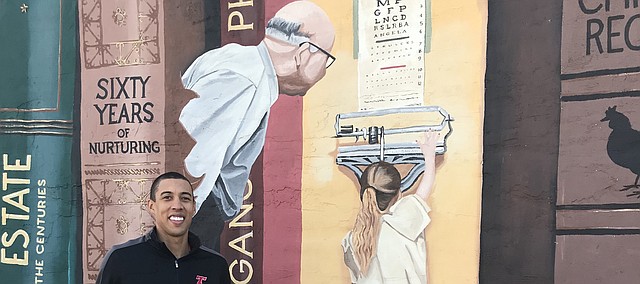 Phil Jones didn't see his shadow Friday, so it looks as though Tonganoxie will have an early spring.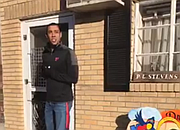 Granted, it was a sunny morning in downtown Tonganoxie and if Jones would have turned a little more to his right, he would have seen his shadow.
But hey, that's the advantage of a human Phil predicting the weather instead of a groundhog Phil.
Jones served as this year's honorary Tonganoxie Phil, a persona that longtime Dr. Phil Stevens took on for several years when a Kansas City radio station selected him to make Groundhog Day predictions as an answer to Punxsutawney Phil.
The Mirror continued the tradition of interviewing Stevens long after the radio station.
On July 2, 2015, Stevens died in his sleep just hours after celebrating exactly 60 years of practicing medicine in Tonganoxie.
Since then, The Mirror has continued the beloved Tonganoxie legend's tradition by asking other Phils to carry on the tradition.
Last year, retired Tonganoxie physical education teacher Phil Jeannin was the stand-in.
Thie year, it was Jones, who is a health and physical education teacher at Tonganoxie Middle School.
For the first time, this year's Phil peaked out of Stevens' former office in downtown Tonganoxie and announced his prediction. It was filmed through Facebook Live on The Mirror's Facebook page. You can watch the video by clicking here
Roughly 10 residents gathered on a chilly morning Friday to hear Jones' prognostication. His prediction eventually drew cheers.
"My prediction is another week or two of cold temperatures," Jones said. "A mild February, maybe a couple chances of rain, maybe dipping right around that freezing mark and then a nice warmup by spring break time for the kids."
Alberta Irwin was among those at the impromptu ceremony. Irwin, who worked as Stevens' assistant for 33 years, said she was there for Stevens' first Tonganoxie Phil prediction and wanted to be there for the new tradition.
A few folks gathered inside the former office, now Ol' Doc's Pop Shop, before heading outside to await the mystery Tonganoxie Phil.
Jones grew up in Wichita and then moved to Topeka in the eighth grade. His father, Herman, is the current Shawnee County sheriff. while mother, Carlene, is a retired school psychologist.
He and his wife, Paige, have a 20-month-old son, Kai.
The 31-year-old graduated from high school in 2005 and then earned a degree in sports medicine and athletic training in 2009 from the University of Kansas before getting a master's in 2013 in teaching.
Jones first got familiar with Tonganoxie during the 2008-09 school year when he served as a KU intern with Mark Padfield, at Tonganoxie High School teacher who also serves as the school's athletic trainer.
Jones now is in year five of teaching at TMS.
The honorary Tonganoxie Phil got to know the original Tonganoxie Phil during an office visit for a school physical a few years ago.
Jones said the two got to talking about how they both spell their name "Philip" and how it's the more unique of the two spellings.
"I'd like to say we had a nice little bond," Jones said.
When he gave his weather predictions, Stevens also was quick to remind people to take care of themselves and get their flu and B12 shots. The good doctor likely would be pretty busy this winter, as it's an especially heavy flu season.
"I haven't had a full roster since we came back from Christmas break," Jones said.
Perhaps the teacher's weather prediction also will come with some healthier days ahead.