Board shrinks search consultant list;
TES

administrators resign; Bothwell named

VP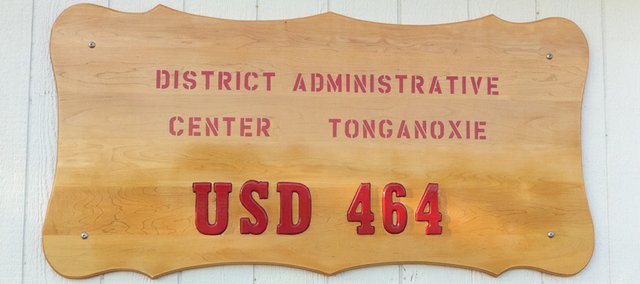 The Tonganoxie USD 464 board will select a search firm for its new superintendent.
Board members will meet at 6 p.m. Wednesday, Feb. 21, to hear from the Kansas Association of School Boards and McPherson and Jacobson. The meeting originally was set for Friday, Feb. 16, but was rescheduled due to additional scheduling conflicts for school board members.
KASB submitted a proposal to conduct the search for $4,250 plus expenses, while McPherson and Jacobson would conduct the search for expenses only.
School Exec Connect had a bid of $11,500 and Ray and Associates $17,500 plus expenses.
McPherson and Jacobson conducted the last search. From that firm's field, the board selected Chris Kleidosty, who resigned last year. Kleidosty was arrested for failure to report abuse regarding a case at his former school district, but the charges later were dropped.
Board member Michelle McGhee voted against Friday's special meeting, but said she was doing so because she couldn't attend. She also said if she were there, she would vote for KASB because the board had utilized KASB for all of its previous searches before the most recent one.
Interim superintendent Tonya Philips automatically will be a finalist regardless of which firm the board chooses Friday.
The meeting will be at the Tonganoxie Elementary School library.
TES administrators resign
Tonganoxie Elementary School's principal and assistant principal will not be back as administrators with the district next year.
Principal Ty Poell and assistant principal Marcia Munsell's resignations were approved at Monday's school board meeting.
Near the end of the meeting, the board voted on contract renewals for all building administrators, but Poell and Munsell were not included in that list.
However, the two administrators were included in a list of resignations and hires that board clerk Audra Boone gave to The Mirror.
The list normally is given to The Mirror at the end of meetings, though the list of hirings and resignations normally aren't announced one-by-one at the meeting. Instead, the are approved as part of the consent agenda under personnel recommendations.
Also on the list of resignations were Tonganoxie High School art teacher Amy Johnson and TES boys basketball coach David Hillmon.
Molly Welsh, THS special education paraprofessional; Heather Gardner, THS special education teacher; Holly Woods and Amelia Kane, TES custodians; and Jaime Hodge, TES second-grade teacher, also were part of the resignation list.
Contracts were approved for Keaton Schaffer, Eric Tate and Shannon Reischman as special education paras; Christina Jeannin as assistant track coach; and Nicole Hillmon, TES early childhood special education teacher, replacing Pam Maughmer.
The board also approved a new position for 2018-19 for the Tonganoxie Basehor-Linwood Special Education Cooperative.
Board names Bothwell vice president; seeks applications for opening
With the departure late last month of board president Bryan Kemp from the school board, the board named a new vice president, as former vice president Amelia Brusven moved into Kemp's role.
Chris Gratton nominated Jim Bothwell as vice president. The board approved the nomination, 6-0.
The board also will be seeking applications for a new board member to fill Kemp's unexpired term.
Kemp stepped down so that he could focus on his wife as she battles cancer.