Tonganoxie wrestling in 2nd place at Holton Regional heading into second day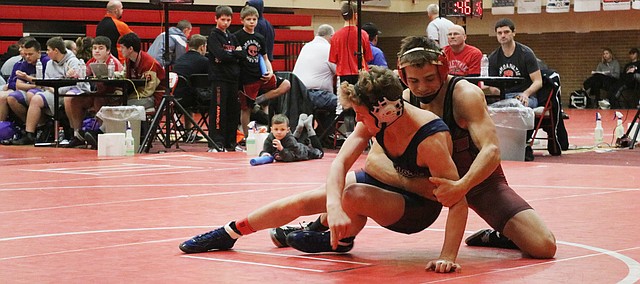 Tonganoxie is in a tie for second place heading into the second day of competition at the Class 4A Holton Regional.
Bonner Springs, ranked No. 3 in 4A, leads the field with 134 after the first day.
Holton and Tonganoxie both have 104 points.
Basehor-Linwood is in fourth with 75, while Baldwin and Santa Fe Trail are tie4d for fifth with 59.5
Bishop Miege is in seventh (51.5), Eudora eighth (39), Wamego ninth (27), Atchison 10th (24.5) and Jeff West 11th (15.5). Piper is in 12th with 8. Bishop Ward, Sumner and Hayden all were scoreless after the first day.
Tonganoxie is guaranteed five wrestlers at state, as Korbin Riedel (42-3), Patterson Starcher (35-3), Gad Huseman (28-1), Justin Hand (36-7) and Connor Searcy (40-5) all will compete for regional championships Saturday at Holton High School.
The team's other five wrestlers could join them with state berths by picking up some victories through the consolation brackets. The top four wrestlers in each weight class advance to state next Friday and Saturday in Salina.
CONSOLATION BRACKETS
113
Hunter Harris (16-22) vs. Piper's Nick Lawson (13-19) or Baldwin's Benton Flory (7-29).
160
Caden Searcy (14-5) vs. Wamego's Devan Garcia (6-16)
182
Devon Duncan (27-13) vs. Atchison's Austin Destimore (8-17).
220
Brent Caray (0-2) vs. Hayden's Clayton Stephenson (13-15)
285
Nick Montiel (0-2) vs. Piper's (29-9)
CHAMPIONSHIP FINALS
138
Korbin Riedel (42-3) vs. Holton's Lawson Henry (42-7)
145
Patterson Starcher (35-3) vs. Basehor-Linwood's Kaden Jacobson (36-5)
152
Gad Huseman (28-1) vs. Bonner Spring's Holden Lentz (31-11)
170
Justin Hand (36-7) vs. Basehor-Linwood's Jon Trowbridge (32-1)
195
Connor Searcy (40-5) vs. Atchison's Riley Smith (22-9)