Tonganoxie wrestlers 4A regional runners-up; state brackets announced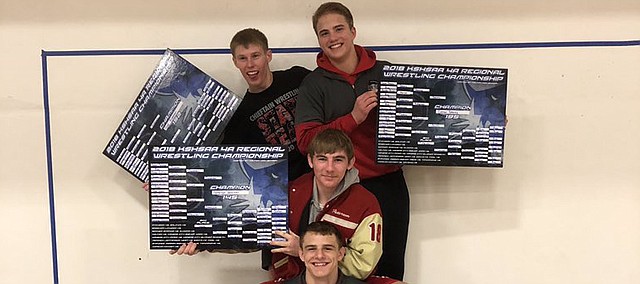 Tonganoxie is headed to state Friday in Salina with seven wrestlers.
The Chieftains qualified seven out of 10 wrestlers to participate for state with their performance Saturday at which THS finished as regional runner-up in Holton.
Bonner Springs won the Class 4A regional with 207 points.
Tonganoxie scored 153.5 for second, just ahead of Holton, which took third with 152.
Santa Fe Trail took fourth with 117.5 points, while Basehor-Linwood finished fifth with 105.5
Baldwin finished the regional in sixth with 93.5.
Eudora placed seventh (64), Bishop Miege eighth (61.5), Wamego ninth (53), Piper 10th (44), Atchison 11th (35) and Jeff West 12th (18.5). Hayden placed 13th (3), while Bishop Ward and Sumner did not score at the regional.
Tonganoxie finished behind Bonner Springs and just ahead of Holton despite having fewer wrestlers competing.
Both of those teams had full 14-participant rosters, while THS wrestled with 10.
Tonganoxie will look to build on last year's performances. THS qualified a school-record 10 wrestlers for state last year after winning its regional. Tonganoxie then tied a school record for medals in a year with three.
Korbin Riedel and Gad Huseman were two of them. Both placed fourth in their respective weight classes.
This year's Tonganoxie field features six of seven wrestlers (Riedel, Huseman, Patterson Starcher, Justin Hand, Devon Duncan and Connor Searcy) who competed at state a year ago.
The seventh, Hunter Harris, couldn't compete last year because he was in middle school. The freshman will join an experienced THS group Friday at Salina's Tony's Pizza Event Center.
STATE SCHEDULE
First round
113
Freshman Hunter Harris (17-21) vs. Louisburg freshman Cade Holtzen (42-3)
138
Junior Korbin Riedel (40-3) vs. Nickerson freshman Dylan Schneider (21-11)
145
Senior Patterson Starcher (33-3) vs. Chanute junior Dalton Misener (26-14)
152
Senior Gad Huseman (29-1) vs. El Dorado sophomore Kai Wernli (27-15)
170
Senior Justin Hand (34-8) vs. Spring Hill senior Alex Denning (26-19)
182
Senior Devon Duncan (29-13) vs. Winfield junior Owen Braungardt (33-3).
195
Sophomore Connor Searcy (39-5) vs. Andale freshman Cayden Winter (22-16)