Lawson resigns from Tonganoxie City Council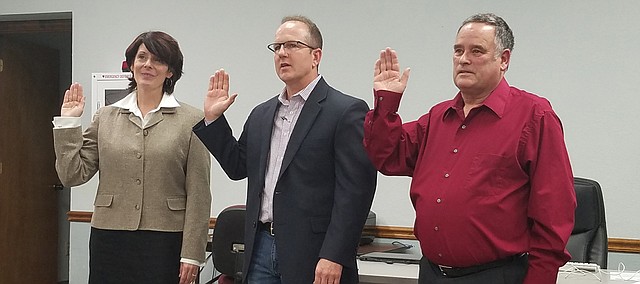 A Tonganoxie City Council member who was the top vote-getter among a crowded field in the 2017 election has resigned.
Jamie Lawson, who had been in office for about six weeks, announced at the beginning of Tuesday's meeting that he would be stepping down.
Lawson apologized for the sudden announcement.
"Unforeseen events have arisen over the weekend that will inhibit my ability to contribute the time I want to be part of the council," Lawson said.
A longtime Tonganoxie resident, Lawson said the resignation was not a result of any conflicts with others.
"I have no issues," he said. "I value everyone in this room."
After making his remarks and shaking hands with some some council members and city staff, Lawson left the meeting.
Lawson is a detective with the Lawrence Police Department. He formerly was employed with both the Tonganoxie Police Department and Leavenworth County Sheriff's Office.
He said he was disappointed that he had to step down and appreciated all the support he has received.
"It's difficult because I don't want to let anyone down," he said.
He also said he plans to still contribute when he can "from the sidelines." As for his replacement, he was confident the council would find a quality replacement.
"It's so important that someone else sit up here and do the job you asked me to do," Lawson said.
Mayor Jason Ward and the rest of the City Council discussed procedure in how Lawson would be replaced. City Attorney Shanon Marcano said she was trying to determine whether the statute language indicated whether the council or the mayor is to appoint Lawson's replacement.
Mayor Jason Ward said he wanted to review the election results for possible appointees.
Council Member Rocky Himpel said he favored a procedure similar to the Tonganoxie school board's replacement search. The school district is taking applications for interested residents wanting to fill the rest of Bryan Kemp's unexpired term. Kemp recently resigned from the school board.
Lawson advanced from a 10-candidate August primary and then was one of three challengers to win seats this past November. Loralee Stevens and Rocky Himpel were the next two vote-getters.
The final vote totals were Lawson, 405; Stevens, 324; Himpel, 245; incumbent Chris Donnelly, 211; Ryan Keltner, 199; and incumbent Andy Gilner, 133.
"I appreciate you guys … this has been in the short-term a learning experience," Lawson said at the meeting.