Tonganoxie's Riedel, Hand to wrestle for state titles in respective divisions at state;
THS

in 4th heading into Day 2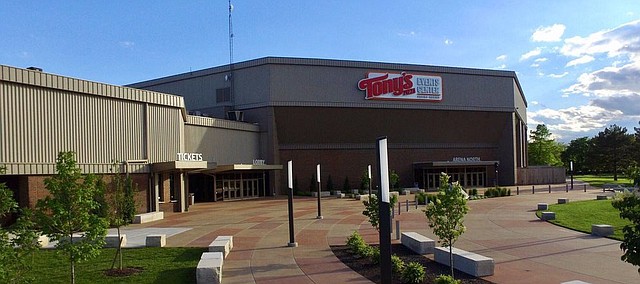 Tonganoxie High has two wrestlers who will battle for state titles tomorrow in Salina.
Senior Justin Hand (37-8) and junior Korbin Riedel (43-3) will compete for Class 4A individual titles in the 170- and 138-pound weight divisions, respectively.
Hand will take on Basehor-Linwood senior Jon Trowbridge (34-1) for the 170 title. Hand is 0-2 against Trowbridge this season.
Riedel faces Arkansas City's Marcus Robinson in the 138 championship. The senior is 41-4 on the season.
Freshman Hunter Harris is the lone Chieftain unable to advance to Day 2.
Harris finished the season 17-23 after losing to Louisburg freshman Cade Holtzen (43-4) by technical fall, 16-0, and then Pratt freshman Kaiser Pelland (24-16) by a 4-0 decision in the consolation bracket.
Senior Patterson Starcher (34-4) went 1-1 Friday and still can finish as high as third place with three victories Saturday. He defeated Chanutes junior Dalton Misener (26-16), by an 11-3 major decision before losing to Pratt junior Kadence Riner (35-4) by a 9-7 decision in the championship quarterfinals.
Fellow senior Gad Huseman must win two matches for third place at 152. He went 2-1 Friday, pinning El Dorado sophomore Kai Wernili (27-17) by fall and then Ottawa senior Jared Parenti (38-7) by 5-2 decision before dropping an 8-2 decision to McPherson junior Scott Radke (40-3).
Fellow senior Devin Duncan (30-14) lost to Winfield junior Owen Braungardt (36-3) by a 9-0 major decision in the 182 opening round. He then outlasted Anderson County junior Dominic Sutton (36-10) with a 5-1 decision. He takes on Ark City sophomore Deston Miller (30-17) in the consolation bracket Saturday. Duncan needs to win three matches for a third-place finish.
And at 195, sophomore Connor Searcy (40-6) went 1-1 Friday.
He defeated Andale freshman Cayden Winter (22-18) by pin at the 1:07 mark in the first round and then lost to Prairie View sophomore Chanz Gerleman (18-3) by pin at the 1:36 mark in the championship quarterfinals.
Searcy needs three victories for a third-place finish Saturday.
All THS wrestlers still have a shot at medaling. The top six placers in each weight class are state medalists. The Chieftains set a school record with three medalists in one season last year.
Tonganoxie also sits in fourth place as a team after Day 1.
Arkansas City is in first with 141 points, Andover Central in second with 89 and Bonner Springs third with 73.5.
Tonganoxie has 58 points. El Dorado is right behind with 57.5 in fifth and Burlington sixth with 50. Rounding out the Top 10 are McPherson (48), Holton (43), Abilene ninth (42) and Basehor-Linwood 10th (40).