Harrell named for teacher of year award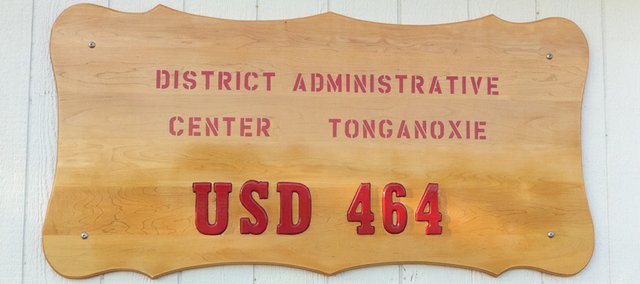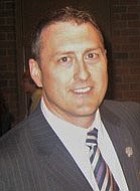 Steve Harrell, Tonganoxie High School forensics and debate coach, has been selected as recipient of the 2017-18 National Federation of State High School Associations Outstanding Speech/Debate/Theatre Educator Award for Kansas.
State winners become eligible for the Section 5 and National Citation award, which is the highest award given by the NFHS.
Harrell began his teaching career in 1989 as the debate, speech and theatre teacher and coach at Tonganoxie High School. Now, 28 years later, he remains in the same position. He also coaches the Tonganoxie High School Scholars Bowl team.
Steve Harrell's educational philosophy is fairly simple.
"Debate, along with contest speech and acting, provide me with quality one-to-one interaction with students who are grappling with real-world content in the crucible of competition," Harrell said in a press release. "I can encourage thoughtful dialogue utilizing information that the student finds challenging, yet personally meaningful. Together we develop the logical skills necessary for critical analysis that the student can then apply to other forms of content.
"In today's world this is essential. Educators are no longer encouraged to be the 'sage on the stage.' We understand that our students can access information from a myriad of sources with swift dispatch. My role is to cultivate tools that allow the student to understand, analyze, and utilize the information that is readily available. Without the ability to think intensively and critically, they will be a ship without a rudder. My task is to craft skills so my students can always steer their own course."
This successful attitude and philosophy has guided Harrell's students and himself to win many accolades. He has coached eight, 4-speaker state debate championships in 1999, 2001, 2002, 2003, 2004, 2005, 2010 and 2013; six, 2-speaker state debate championships in 1998, 2000, 2001, 2003, 2008 and 2009; and three state speech and drama championships in 2003, 2005 and 2008. Harrell also has directed 28 high school musicals and 36 high school and summer theatre productions.
Harrell was the USD 464 Teacher of the Year in 2008-09, has been recognized by the Kansas Senate Resolutions in 2003 and 2013, and by the Kansas House with official certificates in 2002 and 2013. He was awarded the Kansas Debate Coach of the Year in 2000-01 and the USD 464 nominee for Kansas Teacher of the Year in 1997-98.
This award was first given in 1988 when seven individuals received sectional awards. Since that time, 209 sectional and 335 state awards have been presented. Added to those totals for 2017-18 are seven sectional awards and 16 state awards. An annual selection of a NFHS National Citation recipient began in 1989.
Nominations for the NFHS Outstanding Speech/Debate/Theatre Educator Award are solicited from the NFHS's state contacts. All new nominations, plus selected past recipients, are considered for State, Sectional or Citation awards.
When reviewing the nominations, the NFHS Speech Committee looks at a number of criteria: 1) overall contributions, 2) years of service both curricular and co-curricular, 3) organization and continuance of an activity program, 4) significant and on-going contribution to the field, and 5) contributions to the profession both in and out of the state.
Harrell also will be recognized during the March 12 Tonganoxie school board meeting.