What might be in store for Tonganoxie in 2018?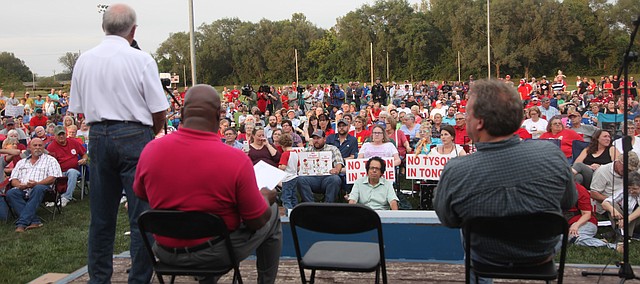 For Tonganoxie, 2017 will be one looked back at as a monumental year.
An announced plan for a $325 million Tyson chicken processing plant just after Labor Day weekend turned into a national story. A project that potentially would have brought 1,600 jobs to the area was not well-received by many in the community. An opposition group was formed. The heated topic eventually became a non-issue and Tyson announced that it would not build its state-of-the-art plant here.
Also during the fall, Tonganoxie High School sports had record-breaking performances. The THS boys cross country, football and soccer teams all were regional champions in the same year. The football team finished with its first undefeated regular season in 55 years, while the boys soccer team also went without a loss (the team had 14 wins and two ties during the regular season). Oh, and both football and soccer won conference titles in the final year of the Kaw Valley League.
It was a lively 2017, but what might 2018 have in store?
Here's a look at some factors that could affect Tonganoxie in 2018:
New year, new governing bodies
Both school board and city council will have three new members when all six are sworn in Monday at respective school board (6 p.m. at the Tonganoxie Elementary School library) and city council (7 p.m. in council chambers).
It can be difficult to tell how governing bodies will change, if at all, but some longtime faces will be replaced with Kris Grinter and Dan Hopkins not seeking re-election for school board and Jim Truesdell, Andy Gilner and Chris Donnelly all having unsuccessful runs for re-election.
With Chris Gratton, Jim Bothwell and Karen Wake Bottary joining the seven-member school board and Jamie Lawson, Rocky Himpel and Loralee Stevens set to join the five-person city council, it will be interesting to see how the governing bodies change.
Improved business
The Mirror has highlighted many new businesses in Tonganoxie, but there are many more to profile. That's a good thing for 2018, as more and more storefronts are being filled. In the downtown area, for instance, there are two special venue spaces, several salons/spas and even a shared spot for business people wanting to share office space. The Pathways center where the former police station was another notable addition that should continue to provide added activity in the downtown district.
It was tough to see It's a Sweet Treat Day Bakery close its doors at the end of 2017, but the company will continue to prosper as an at-home business for wedding cakes and other orders.
Plus, all signs point to a return of the Myers Hotel after the property changed ownership in the fall. Spots such as the Myers Hotel Bar and Ol' Doc's Pop Shop (which recently opened in the former Dr. Phil Stevens office) are other promising signs.
Big developments
Though Tyson won't be coming to the Tonganoxie area, there are notable developments happening.
The business park has had continued to have plenty of dirt work take place. Unilock Construction will be the park's first tenant.
Meanwhile, a $12.5 million Army Reserve Center covering 30,000-square-feet on 19.5 acres has been coming along and seems to be well ahead of its January 2019 projected completion.
Completion for the center when the project started was January 2019, but the building and property is well ahead of that projected completion.
Combined with efforts to build a new library on a portion of the former elementary school property and what might join the library on that property, increased housing construction and yes, even more event venues, 2018 is primed to be a year of activity for Tonganoxie.