TONGANOXIE

TOURNAMENT

CENTRAL

: Tonganoxie High boys rout Holton;

THS

girls almost slip past Wamego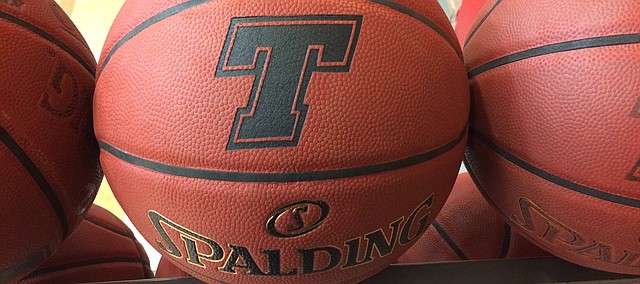 The Tonganoxie High boys basketball team got a resounding victory at its home tournament Thursday, while the THS girls bounced back from a rough first game Tuesday and nearly knocked off Wamego in the second round.
Tbe THS boys shot nearly 53 percent from the field and cruised to a 63-36 victory against Holton in the consolation bracket.
The Chieftains (2-7) led, 35-14, at halftime and didn't look back against the Wildcats (5-6), who, like Tonganoxie, lost a close one in the quarterfinals. Holton fell to De Soto, 37-34, on Monday.
Mac Thompson had a game-high 13 points, while Chandler Caldwell scored 12 as 10 different Tonganoxie players scored in the victory.
THS now will play at11:30 a.m. Saturday at the main gymnasium on the east campus in the fifth-place game. Olathe West (3-7) defeated Metro Academy, 58-48, Thursday. The loss dropped the Mavericks to 14-10. Tonganoxie will play the loser of the OWHS-Eudora game.
After scoring just 12 points Tuesday in a blowout loss to state-ranked Jeff West, the Tonganoxie High girls basketball team was ready for another shot at victory in the Tonganoxie Invitational on Thursday.
THS scored as many points in the first quarter against the Red Raiders as they did against the Tigers in the entire game, as Tonganoxie and Wamego were tied at 12 after the first quarter.
Wamego's biggest lead was 23-15, but there were four lead changes and a tie during the game.
Tonganoxie battled all night, but fell short, 41-38. Morgan Brusven led THS with 11 points, while Megan Martinez scored eight for the Chieftains (1-8) in the loss.
THS will play in the seventh-place game at 10 a.m. Saturday in the THS west gymnasium against Metro Academy (7-10). The Mavericks lost to Silver Lake, 53-40, on Thursday. The Eagles (2-9) will play for fifth place Saturday.
Wamego will face De Soto and Olathe West will play Eudora in boys games Friday.
Bonner Springs plays De Soto and Jeff West meets Eudora in the girls semifinals Friday.