A place to call home in Tonganoxie at Cornerstone Family Worship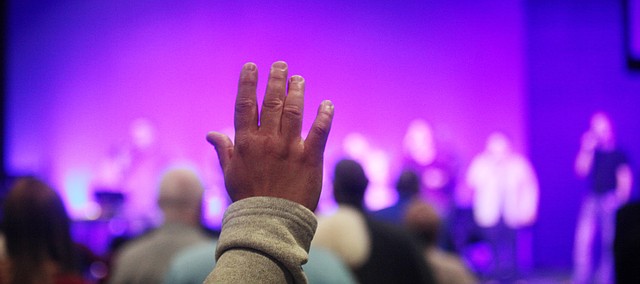 Cornerstone Family Worship had services for 329 Sundays at the Tonganoxie Performing Arts Center on the Tonganoxie High School campus.
Some church members would be there, sometimes before dawn, getting the space ready for services.
To break down that number down even more, that's a bit more than six years of the church's congregation meeting there Sunday after Sunday.
But who's counting?
This past Sunday, the church celebrated a grand opening of what likely will be its forever home in Tonganoxie — a 21,000-square foot structure set on 11 acres along the U.S. Highway 24-40 curve near the high school.
Some 200 people were in attendance for Sunday's service and celebration that has made a long journey a reality for the growing church.
"Make yourself at home today," the Rev. Ron Swaim told his congregation and guests. "That's what it's all about."
After the service, folks meandered through the building, checking out the various youth classrooms, the administrative offices and other amenities — especially the coffee bar.
A sign there reads "All I need is a little bit of coffee and a lot of Jesus."
Cookies and cupcakes were served after Sunday's worship at the coffee bar.
Tonganoxie Mayor Jason Ward spoke during the service, focusing on a classic sports movie to reflect on the Cornerstone Family Worship's reality of a new home.
Ward spoke of "Field of Dreams" and the struggles Ray Kinsella, Kevin Costner's character in the movie, went through while James Earl Jones' Terrance Mann kept telling him to build that diamond because people will come.
"Well, this isn't Iowa, we dont' have a baseball diamond, we don't have Shoeless Joe Jackson and Pastor Swaim tells me that we don't have magic water, but I am here to tell you … people will come," Ward said. "People will come to this magnificent church for reasons they can't even fathom. They will arrive at the door with the innocence and wonder of children. They will come to a church with the fellowship of decades past.
"They will come to a church that loves without boundaries and welcomes all. They will come to a church that provides safety and serenity in worship. They will come to a church that strengthens body, mind and soul. They will come to a church that is the Cornerstone of our community."
Ward said the church has the opportunity to reach out to more people and make an even bigger impact as it works to help strengthen the Tonganoxie community as a whole.
Swaim reminisced a bit during the service, reminding folks that the church was a casualty of the 2000 tornado that ravaged the community.
But as it was quoted later in the service from a newspaper article at the time, "I think we'll build it back."
Swaim himself recalled coming to Tonganoxie in May 2002 to what was known at the time as the Tonganoxie Assembly of God Church.
He said there were 18 members at that first service.
The church, which had a name change along the way, now has some 400 members. The sanctuary can seat about 500.
Church officials had plans of building on land between Tonganoxie and Basehor, but land became available in Tonganoxie.
The church also sold its former home to the city. The building was renovated into what is now the Tonganoxie Police Department. at Sixth and Church streets.
Most recently, the church had its offices and some activities at The Jewel on Main until its new home could be completed.
The service had plenty of rejoicing through song, but Swaim also took the time to inject some humor.
His friend Phil Kreiling, who also spoke during the service, discussed the sound system with Swaim along the way. Swaim was taken aback by the price of the sound system.
"He said that was to get the twang out of your voice," Swaim said with a laugh. "It would be half-price if you didn't have that twang."
Kreiling was a pastor himself for 30 years at the Overland Park Assembly of God Church.
The service was live streamed so folks near and far could tune in for the celebration.
Swaim remarked that he had started a Silly Sock Sunday. He showed off his silly socks, complete with sunflowers, courtesy of former church member Mike Vestal, who now lives in Florida.
Swaim joked that Vestal was one of his "hecklers" who also was in the front row at church.
As the service continued, Swaim spoke of the future of the church and the possibilities that come with it.
He again encouraged those in attendance and others watching online to utilize the church as a way to reach out to others and continue the Lord's work.
"God's not done yet," Swaim said.