Remember When: A Community Review for Jan. 24, 2018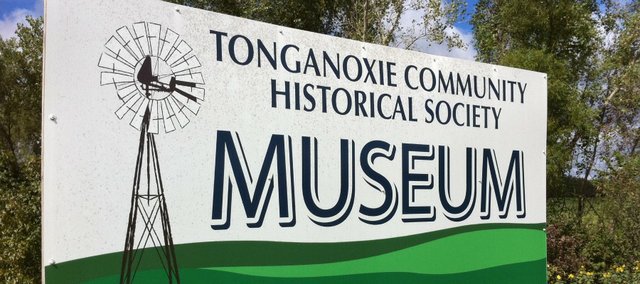 25 years ago: Jan. 27, 1993
Chamber of Commerce Secretary Connie Torneden was selected "Member of the Year" at the chamber's installation ceremony. In addition to her responsibilities as chamber secretary, Torneden has been the organizational hub of Tonganoxie Days since its inception eight years ago.
Bill New, president of First State Bank & Trust, presented the Tonganoxie Historical Society with a $4,000 check, facilitating the move of the Reno Methodist Church, Historical Society President John Lenahan recently announced. United Methodist Church released the building to the Historical Society and Samuel Kelsall III initiated the fund to move Reno Methodist with a $5,000 donation. Kelsall's family originally donated the land to the church.

50 years ago: Jan 11, 1968
The Mirror recapped the unusual weather of events of 1967. There was a drought reducing the Kaw River to a record low of 1.5 feet. A month of rain started April 6 with 8" contributing  to 31" for the year, which exceeded the annual rainfall by 13.5". Excessive flooding was avoided by the new Perry Lake project holding water back.
April 24 had a heavy frost with damages to fruit trees and gardens. Coincidentally, this also happened on the same date in 1910.
On April 27 there was a terrific area wide fog that resulted in a 10 car collision on Highway 10 affecting 19 other vehicles with a back-up for 4 miles.
The 1968 Presidential election was looking to be a boom year for the button business that has already seen great success with the hippie movement according to the KC Star.
As seen in the Mirror humor column, "Just because it's a well-beaten road doesn't mean it's the right one".
75 years ago: Jan. 14, 1943
Military forces in Fort Riley Kansas will be enjoying milk from Tonganoxie dairies. Our own local Franklin Milk plant will receive, process and ship wholesome milk from our "contented cows". The shortage of help in this production is a detriment to increased supply. If you or someone you know is able to work with the bovine industry, please seek employment.
Two local parents are reporting news from their sons in the Pacific. Mr. and Mrs. Louis Seufert, Sr. have received stories from their son, Tony that wild hogs are abundant in New Guinea. In fact one was shot and prepared for a tasty meal. Mrs. George Robb received a letter from Tom who is believed to be in the Fiji Islands. He shared that he got to have ice cream on Thanksgiving Day!  What a treat.
Reminders are published today about how to save gas and help build a bomber. Keep heat at 65 degrees, avoid laundering and bathing until weather warms and do as little cooking with high temps as possible.
See a movie this week at the Royal Theater. Greer Garson and Walter Pidgeon are starring in "Mrs. Miniver" and Judy Canova can be seen in "Joan of Ozark".  
100 years ago: Jan. 17, 1918
William Hammond had three rolls of woven wire stolen the other night. Heretofore it had been safe to let wire remain outside the stores in Tonganoxie but there must be some new thievish talent developing in town.
The Northwestern annulled its east bound morning train to Kansas City Tuesday, and the one coming back in the evening. A shortage of locomotives was given as the reason.
Many of the schools are closing in the big cities on account of the coal shortage. It is the custom in Tonganoxie to buy the coal used for heating the school buildings the summer before. This assures a coal supply for the winter at the lowest possible price.
St. Louis—Indicative of the low temperature which has prevailed here is the fact that the Mississippi River between this city and East St. Louis is frozen over for the first time in a quarter of a century.
125 years ago: Feb. 2, 1893
When visitors to the World's Fair see the mammoth log at the Kansas exhibit, they will hardly associate it with what they considered Kansas to be, a treeless plain.
It will be a surprise to see this monster of the forest grown in the "Great American Desert," where the smallest sapling was supposed to be a curiosity.
The walnut King of Kansas is now in Reno ready for shipment, and will be sent to Chicago from that point. It is through the enterprise of Mr. J.H. Rudrow, or Oskaloosa, that this log is being placed on exhibit. The log is circular at the base and at the top, is fifteen feet long and measures eighty-four inches in diameter.
One of those pleasant events that go make life happier and respect for friends deeper and more lasting, happened to Henry Metz on Saturday evening.
When Henri Lodge No. 190 was in session, a lull in the proceedings was taken advantage of and Mr. Metz was handed over a costly past master's jewel inscribed as follows: "Henry Metz of Henri Lodge No. 190, presented by his Masonic brothers as a token of friendship and brotherly love, January 28, 1893." Mr. Metz has been master of the lodge for several years, and was re-elected last December, but declined to serve longer.
RS Robertson has a monster mule at his barn that weighs 1230 pounds and is 16 hands high.
This mammoth anatomy of a native mule was formed by Kansas grass and grain.