'

Summer getaway' for rural Tonganoxie resident on research trip to Antarctica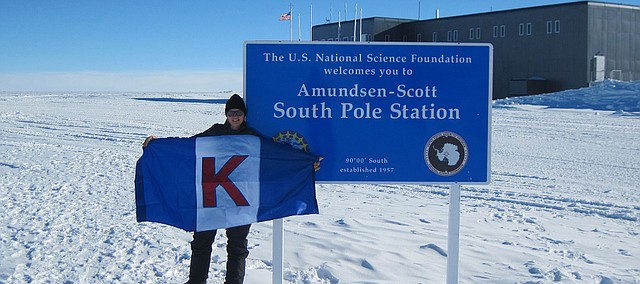 The winter solstice was Dec. 21, marking the start of winter and the shortest day and longest night of the year.
For Emily Arnold, the next day basically was the longest of her life.
The rural Tonganoxie resident, an assistant professor of aerospace engineering at the University of Kansas, was coming back from a month-long research visit to Antarctica.
At first glance, it might appear to be the opposite. She left New Zealand at 11 a.m. Dec. 22 and got home about 8 p.m. that day.
But of course, not figured into those times is the International Dateline. Arnold's trip actually took 36 hours total.
"It literally was the longest day of my life," Arnold said with a laugh.
Arnold, who first visited Antarctica in 2011 as a graduate student, was back for her second adventure at the end of 2017.
She left Tonganoxie on Nov. 13 and spent about a week in New Zealand preparing for the trip south to McMurdo Station, a United States research campus about 2,400 miles from New Zealand and 850 miles from the South Pole.
During her first visit, Arnold gathered data through drones.
This time, the 31-year-old who originally hails from Hillsboro was out in manned aircrafts taking measurements.
"The difference is I got to fly around and see different parts of Antarctica this time," she said.
That included a brief stop at the South Pole — enough time to snap a photo and head out.
Evaluating research
Arnold collaborated with the Center for Remote Sensing of Ice Sheets at KU for the project.
The research part of NASA's Operation Ice Bridge, which evaluates ice sheets in both Greenland and Antarctica.
"My role was to integrate the instrument onto the aircraft and operate radar during the flights," Arnold said.
The equipment specifically uses ice-penetrating radar, which reached down to the bedrock below ice.
Data from the research also shows layers in the ice, which provides data much like rings in a tree measuring its lifespan.
Arnold said it helps determine what was happening at the time, whether there was much snow or ice accumulation.
She said the deepest ice they encountered was 3.5 kilometers or 2.17 miles. Other spots were several hundred meters up to 1.5 kilometers or about 0.9 of a mile.
Research will help scientists predict how the ice levels and snow accumulation will trend in future years.
And, the measurements can be used to create models that simulate how ice sheets are responding to climate change.
"Using that information can predict how ice sheets are going to change in future," Arnold said.
Summer vacation
It's currently summer in Antarctica, which means the temperature normally is 25 degrees. A bearable temperature, but wind is what could make or break a day. There are times that wind could drop that temperature by 10 degrees or more.
Arnold returned home about the time the Tonganoxie area got frigid. She said it wasn't a difficult transition. Antarctica actually is considered a desert, she said, so it seems colder here at a same temperature with no wind because of the moisture.
During research, Arnold also was able to get into a tube that takes one down below the ice and into the water. For instance, a colleague captured a photo of a jellyfish in the water. She saw other animals, including a seal and small fish.
Arnold said her KU research group also had NASA researchers from Alaska and pilots from across the U.S.
Getting ready
There were a few preparations that had to be made before venturing on to Antarctica. Regular doctor physicals and dental checks are required in case there are any physical ailments. That helps ensure folks don't get sick while in Antarctica.
Some other preparations with equipment took place in Christchurch, New Zealand, but then it was on to Antarctica. That city was recovering from a deadly earthquake during Arnold's first visit in 2011. The quake in 2011 killed 185 people.
While Arnold was in Antarctica, the city felt another earthquake, this time registering a 4.2 magnitude and moderate shaking.
According to worldpopulationreview.com, Antarctica has a population of 1,100 people in the harsh winter months and 4,400 during the milder summer months of October to February. It's the fifth largest continent, covering 5.4 million square miles.
Arnold said the trip had various support staff who also were from Lawrence.
"Any type of connection you can make with someone, you're automatically friends," she said.
The visit was another great opportunity for Arnold, but she was ready to return to Kansas.
Vegetation is limited. The only bird there is brown seagull-type bird called a skua. There also were seals and penguins in the distance.
She said upon returning to New Zealand and the United States, she really took notice of birds singing.
That, and the color scheme.
"The color green doesn't exist in Antarctica," Arnold said.