Tonganoxie basketball teams earn wins at home tourney as Eudora wins 5th straight title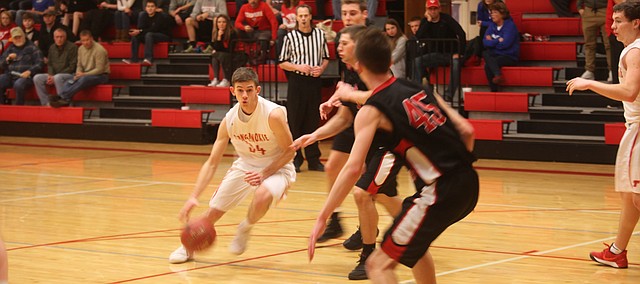 The Tonganoxie High boys were gaining momentum in their home tournament after nearly knocking off a state-ranked team and then routing another in the consolation bracket.
On Saturday, though, the Chieftains couldn't overcome a slow start against Metro Academy in the fifth-place game.
Tonganoxie battled back in the third quarter after trailing, 28-15, at halftime, but Metro eventually took control again and won, 55-40.
The loss dropped THS to 2-8 on the season.
Isaiah Frese led the Chieftains in scoring with 13 in the losing effort, while Chandler Caldwell added nine, Eric Neas seven and Mac Thompson six. Elijah Tyner scored three and Dylan Kleidosty two for THS.
Jackson Hall and Jack Frisbie each scored a game-high 18, while Charles Spaedy also was in double figures with 10 for the Mavericks.
THS shot just 34 percent (14-for-41), with the most trouble coming from beyond the arc. THS shot just under 16 percent from three-point land (3-for-19).
Earlier in the week, the team got a resounding victory. THS shot nearly 53 percent from the field and cruised to a 63-36 victory against Holton in the consolation bracket.
THS led, 35-14, at halftime and didn't look back against the Wildcats (6-6), who, like THS, lost a close one in the quarterfinals. Holton fell to De Soto, 37-34, on Jan. 15.
Thompson had a game-high 13 points, while Caldwell scored 12 as 10 different Tonganoxie players scored in the win.
The team played Tuesday at home against Heritage Christian after The Mirror's deadline and will be home again Friday against Eudora.
Girls win on final day
The Tonganoxie girls made strides during the week. After state-ranked Jeff West routed THS in the first round, THS nearly knocked off Wamego and then got a victory in the seventh-place game Saturday.
The Chieftains improved to 2-8 with a 49-42 victory against Metro.
After scoring just 12 points in a blowout loss to Jeff West, THS was ready to bounce back
THS scored as many points in the first quarter against the Red Raiders as they did against the Tigers in the entire game, as Tonganoxie and Wamego were tied at 12 after the first quarter.
Wamego's biggest lead was 23-15, but there were four lead changes and a tie during the game.
Tonganoxie battled all night, but fell short, 41-38. Morgan Brusven led THS with 11 points, while Megan Martinez scored eight for the Chieftains (1-8) in the loss.
Tonganoxie has the chance to keep the momentum going this week. THS played Heritage Christian after The Mirror's print deadline Tuesday. On Friday, THS is home again, this time against Eudora.
Eudora wins fifth straight title
January trips up County Road 1 the last five years have been fun for the Eudora High boys team. The Cardinals have now won the past five Tonganoxie Invitational tournaments.
Eudora defeated state-ranked and previously unbeaten Wamego, 41-29, for the tourney title Saturday.
Olathe West defeated De Soto, 60-54, for third and Holton defeated Kansas City East Christian, 57-46, for seventh.
Jeff West, also a state-ranked team, won the girls tournament with a victory against De Soto. Eudora took third with a 47-30 victory against Bonner Springs, while Wamego blasted Silver Lake, 49-29, in the fifth-place game.
All-tournament teams
Tonganoxie High landed a player on each all-tournament team for the Tonganoxie Invitational.
Chandler Caldwell was Tonganoxie's representative on the boys all-tournament team. Also on the team were Jared Baruth and Brannon Bell, both from De Soto; Jackson Hall, Metro Academy; Cougar Downing and Alston Mason, both from Olathe West; Chase Dillon, TJ Fritz and Jayson Ebert, all from Wamego; and Rock Jerome and Jayden Pierce, both from Eudora.
Eudora's Noah Katenmeier was named most inspirational player and Eudora's Jayden Pierce was most valuable player.
For the girls team, Megan Martinez represented Tonganoxie. She was named to the team by coaches along with Hallie Hoffine, Bonner Springs; Riley iebert and Emily Watson, both from Eudora; Marissa Bates, Silver Lake; Maci Beachler, Wamego; Emily Puhr and Mackenzie Shupe, both of De Soto; and Mariah Murdie, Aaliyah Negonsott and Jordan Negonsott, all from Jeff West.
De Soto's LaMyah Ricks was named most inspirational. Jeff West's Mariah Murdle was named MVP.