Phillips to interview for superintendent position after all; new special meeting set for Monday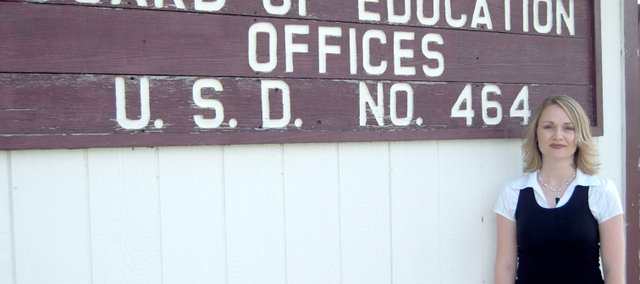 Tonya Phillips will be interviewing for the Tonganoxie USD 464 superintendent position after all.
A special meeting has been called for 6 p.m. this coming Monday to interview Phillips, the current interim superintendent.
The board met Tuesday in a special meeting to craft interview questions for Phillips, as she initially was to be interviewed Wednesday for the position.
But the meeting was canceled earlier that day because Phillips had withdrawn her name from consideration for the post.
In an email, Phillips told The Mirror the meeting was called off because she withdrew her name from consideration.
"I truly appreciate the outpouring of support that I have received throughout this interim position," wrote in her email to The Mirror. "I have been considering this for quite some time now, and I have decided to do what is best for me and for my family. I truly love the Tonganoxie School District and our amazing staff!"
However, Phillips appeared to have a change of heart. The district sent out notice Friday morning of a special meeting scheduled for Monday to interview the interim superintendent.
Asked for a statement just before noon Friday, Phillips did not immediately respond to The Mirror's email.
As part of her original statement, Phillips said she would continue to handle both her duties as interim superintendent and her original job of director of educational programs through June 30, as a new superintendent would begin July 1, per routine annual contracts for administrators.
"I will work with the new superintendent to provide a seamless transition, and I will continue to do everything I can to make Tonganoxie USD 464 a place of academic excellence," Phillips said. "I have no plans to leave the district."
The board voted, 6-1, Jan. 19 during a special meeting at the Tonganoxie Elementary School library. Members went into executive session for a total of 1 hour, 45 minutes in executive session to discuss the superintendent matter regarding non-elected personnel.
When the board returned from executive session, a motion was made to interview Phillips. Board member Kaija Baldock cast the dissenting vote, while Michelle McGhee participated in the executive session and the vote remotely via phone.
In a statement to The Mirror, Baldock explained her vote.
"My 'no' vote against interviewing the interim superintendent for a permanent position as superintendent was a vote against the process and has nothing to do with the interim superintendent as an individual," Baldock wrote. "I believe the school board has an obligation to post the position and interview qualified candidates.
"All candidates would have the same opportunity in this process, but it demonstrates that the board has done its due diligence to secure the best qualified candidate for the job."
Phillips joined the district as director of educational programs in 2009. Before that, she worked in the De Soto and Royal Valley school districts as grants coordinator/administrator. She taught at the elementary level at Royal Valley and the Auburn Washburn school districts in the Topeka area.
Phillips has carried the interim title nearly a year. Former superintendent Chris Kleidosty, who was hired in July 2016, was arrested in February 2017 on charges that he failed to report to sexual abuse cases at Prairie View where he served as district superintendent.
Linn County Attorney James Brun, who himself worked in the Tonganoxie district office roughly a decade ago, dismissed the case this past August. During proceedings leading up to the dismissal, the court made exceptions that allowed Kleidosty to go back to work for USD 464, but the school board kept him on suspended leave with pay from February until Kleidosty resigned in October.
Brun served as director of operations under former Superintendent Richard Erickson. He was on the job about two months when he resigned following an argument on school property. Brun called 911 during the argument, but neither Brun nor Erickson filed complaints after that. The district bought out the rest of Brun's contract that year in the resignation agreement.
As for the Linn County case, former Prairie View High School administrator, Tim Weis also was arrested at the same time on those charges. Prairie View school board members replaced Weis with the PVHS assistant principal later this past year.
The arrests centered around former PVHS teacher Keaton Michael Krell. He resigned in early May 2016 from his high school teaching position at PVHS. Weeks later, on the last day of school, officers arrested him for alleged sexual relations with two students.
Krell's case is ongoing. His last appearance was earlier this week in Mound City.
Kleidosty contended that he always complied with authorities regarding the alleged conduct surrounding Krell.