Tonganoxie school board to conduct superintendent search with Phillips as finalist; Kemp stepping down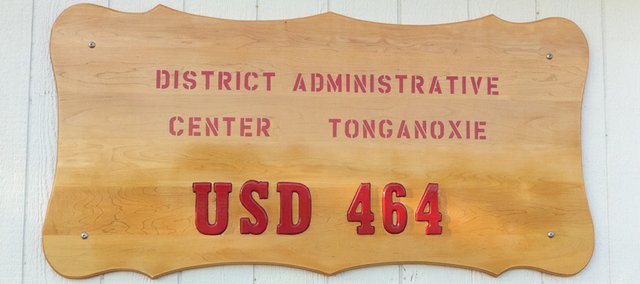 The search for a new Tonganoxie USD 464 superintendent continues while a board member resigns from his post.
During a special meeting Monday, the board interviewed interim superintendent Tonya Phillips for the position.
But after executive session, a series of motions eventually led to a divided board approving a candidate search.

The board interviewed Phillips for 75 minutes during the closed-door meeting. Board Member Amelia Brusven participated in the executive session via teleconference.
The board then met for another 25 minutes in executive session without Phillips.
When the board returned to open session, Kaija Baldock made a motion, with a Chris Gratton second, to accept Tonya Phillips' application to be part of the superintendent candidate pool.
The motion carried, 4-3, with Baldock, Gratton, Jim Bothwell and Bottary voting in favor and Brusven, Bryan Kemp and Michelle McGhee voting against.
McGhee then made a motion, with a Brusven second, to hire Phillips as superintendent for a year, effective July 1, 2018.
Brusven, Kemp and McGhee voted for the hire, while Baldock, Gratton and Bothwell voted against. Bottary abstained and the motion died.
Baldock then made a motion to hire and instruct a search firm to seek additional candidates and that Philips be included in the firm's final slate of candidates. The motion passed, 4-3, with Brusven, Kemp and McGhee casting the dissenting votes.
After the back-and-forth superintendent activity, Kemp, who is board president, announced his resignation from the board.
Kemp's official written statement to board clerk Audra Boone read as follows: "In order to provide my family with the time and attention necessary as my wife works through her journey with breast cancer, I hereby resign my position as a member of the Board of Education of USD 464.'
Kemp was elected in 2015.
Monday's meeting continued a roller coaster of activity in recent weeks.
The board met Jan. 22 for a special meeting to discuss interview questions to ask Phillips. The board planned another special meeting for this past Thursday to interview Phillips, but she withdrew her name from consideration the day before.
"I have been considering this for quite some time now, and I have decided to do what is best for me and for my family. I truly love the Tonganoxie School District and our amazing staff!" she wrote in a statement to The Mirror.
She also said she had no plans of leaving the district, as she wanted to continue on as director of educational programs full-time.
But on Friday, the district office announced Monday's special meeting to interview Phillips. Phillips was ill Friday, but responded to The Mirror on Monday about her change of heart.
"Due to the overwhelming support I have felt from the community, staff, and discussions with my family, I would like the opportunity to lead this amazing staff and community," she said in a statement via email.
"There is strong support in the direction that the district is heading, and I want the opportunity to lead this staff and the district to the success that we are all diligently working toward. The faith of the patrons of the district in my leadership has encouraged me to move forward with the opportunity to interview for the position as superintendent. We have started down the path of success, and I want to be there when we reach our goals."
The board voted, 6-1, in a special meeting Jan. 19 to interview Phillips. Baldock cast the nay vote, but stressed that it wasn't a reflection on Phillips. She was concerned with the process.
"My 'no' vote against interviewing the interim superintendent for a permanent position as superintendent was a vote against the process and has nothing to do with the interim superintendent as an individual," Baldock wrote. "I believe the school board has an obligation to post the position and interview qualified candidates.
"All candidates would have the same opportunity in this process, but it demonstrates that the board has done its due diligence to secure the best qualified candidate for the job."
Phillips joined the district as director of educational programs in 2009. Before that, she worked in the De Soto and Royal Valley school districts as grants coordinator/administrator. She taught at the elementary level at Royal Valley and the Auburn Washburn school districts in the Topeka area.
Phillips has carried the interim title nearly a year. Former superintendent Chris Kleidosty, who was hired in July 2016, was arrested in February 2017 on charges that he failed to report to sexual abuse cases at Prairie View where he served as district superintendent.
Linn County Attorney James Brun, who himself worked in the Tonganoxie district office roughly a decade ago, dismissed the case this past August. During proceedings leading up to the dismissal, the court made exceptions that allowed Kleidosty to go back to work for USD 464, but the school board kept him on suspended leave with pay from February until Kleidosty resigned in October.
Brun served as director of operations under former Superintendent Richard Erickson. He was on the job about two months when he resigned following an argument on school property. Brun called 911 during the argument, but neither Brun nor Erickson filed complaints after that. The district bought out the rest of Brun's contract that year in the resignation agreement.
As for the Linn County case, former Prairie View High School administrator, Tim Weis also was arrested at the same time on those charges. Prairie View school board members replaced Weis with the PVHS assistant principal later this past year.
The arrests centered around former PVHS teacher Keaton Michael Krell. He resigned in early May 2016 from his high school teaching position at PVHS. Weeks later, on the last day of school, officers arrested him for alleged sexual relations with two students.
Krell's case is ongoing. His last appearance was earlier this week in Mound City.
Kleidosty contended that he always complied with authorities regarding the alleged conduct surrounding Krell.