Remember When: A Community Review for Jan. 31, 2018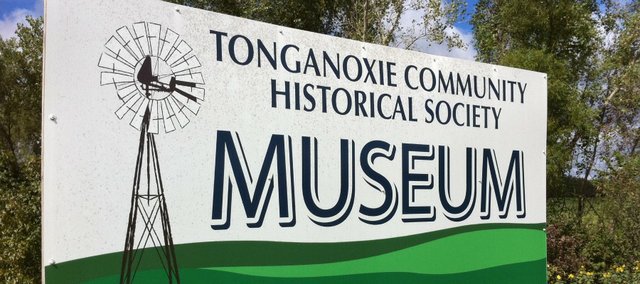 10 years ago: Jan. 30, 2008
Three Tonganoxie High band members made school history when they were selected to the Kansas Music Educators Association 1A-4A All-State Band. Senior Ryan Wolfe and juniors Rex Hancock and Ryan Brammer became the first ever THS students to eve make the prestigious band.
City and county salt supplies are holding out this winter. "You don't realize how much snow becomes this foe," said Kimberly Quails, public affairs manager for District One of KCOT. "lt's tough if you go two or three weeks in between snows. It's even harder when we've had them every other week. We started it off with the big ice storm, and since then it's ust been back-to-back."
Kathy Bard, Tonganoxie assistant city administrator, said the city used about 286 tons of salt to make the roads less icy in 2007.
25 years ago: Feb. 3, 1993
Small beginnings can bring remarkable results. The mighty oak springs from the combined effects of earth, air and moisture on a tiny acorn. In like fashion, Tonganoxie's sixth annual St. Patrick's Day parade was created from the humblest of origins.
The celebration started with some spontaneous conversation on an icy St. Patrick's Day six years ago by interested locals. The group decided to create a new event, a quick call was made to Mirror reporter Helen Schilling and Tonganoxie's first impromptu St. Patrick Day's parade began.
Tradition-making participants included John Lyman McCaffrey, who served as unofficial announcer on the bed of a truck driven by Eric Gambrill. Tom Norman and Ronnie Conrad followed in their trucks and John Dempsey drove his own car.
This year there will be a window-decorating contest between local businesses with three winners to be selected. Events will begin at 4:30 a.m. with the painting of a green stripe down the center of Fourth Street. Street striping will be followed by a 6 a.m. fund-raising breakfast for the American Legion boy;'s baseball team at the United Methodist Church.
After the parade at 10 a.m., a dinner of stew and corn beef and cabbage will be served at the Leavenworth County Fairgrounds by the Happy Helpers 4-H Club. Later in the evening, the Country Cruisers will sponsor a dance at the fairgrounds. For dancers hungry from late night celebrating, Corky's will be open all night for breakfast.
50 years ago: Jan. 18, 1968
Eudora's filmstrip called "School Drop Out, Road to Nowhere" was played for local Home Ec.
The Knights of Columbus Speech Contest in Basehor on January 31 had prizes of $300 and $100 scholarships for 1st and 2nd place winners.
Bill's Market had a dozen glazed doughnuts for 39 cents.
Evans Real Estate had a nice two-bedroom home with garage close to town priced to sell at $9,000.
Men's hooded sweatshirts were reduced to $2.09 at Zoellners.
A 1968 hybrid wheat program was presented in Lawrence at the Grenada Theater by Deem's Farm Equipment. 
75 years ago: Jan. 21, 1943
Once again, Kansas weather surprises us with the arrival of last weekend's blizzard-followed by this week's delightful southerly breeze. Blizzards to Breezes - that is what will please us!
It truly is a small world with the news that two of our local boys are stationed on the same island in the Pacific. Of course, it is merely speculation that "somewhere in the Pacific" are the Fiji Islands where Norman Wiley, Jr. and Tom Robb crossed paths. And in other locations, Red Sallee and Son Angell encountered one another in the British Isles. It certainly helps with the homesickness when you bump into a hometown friend.
Copper scrap is what's needed for wiring to help our military so check your home for old tea kettles, electrical cords, refrigerators or vacuums. Come on down to the Royal Theater and catch a free showing of Ronald Reagan's new movie "International Squadron". You'll be helping the war effort and get a free show in the process.
The old lady remarked to the soldier- "You were very brave to come down in a parachute in this terrible tornado." "I didn't come down in a parachute," the soldier said. "I went up in a tent."  
100 years ago: Jan. 24, 1918
Trustee Freeman drove a hog through town Thursday. When he cashed in on the animal he had $75. The hog weighed 490 pounds.
Mrs. Della Ratliff, a 23 -year Tonganoxie resident, but for some time making her home at other places with her children, died suddenly at Garden City, Mo., Wednesday of last week, at the home of her daughter Mrs. Flossie Bullet.
She was sick only about ten minutes. The body was brought here Saturday, for burial in Maple Grove cemetery in the family lot. Funeral services were held in the Friends church Sunday forenoon at ten o'clock, and were conducted by Rev. Homer Glaze. The pall bearers were her six sons.
The federal government has stationed an inspector in Leavenworth to look after the food supply of this county. The federal inspector has sent word that he will be around here in a few days to look at the milk plants and dairies. At Fairmount, the inspector found a few farmers who were watering their milk, and he has given notice that drastic action will be taken if any more watered milk is found.
The mill got out of wheat Saturday and had to shut down. The Milling Division of the Food Administration is supposed to keep the mills supplied with wheat. An order has been issued for ten car loads of wheat from Portland, Oregon, to be sent to Tonganoxie for milling. Pacific coast wheat is not as valuable for milling purposes as local wheat, but the mill will be able to turn out good flour with it, notwithstanding.
125 years ago: Feb. 2, 1893
The cold snap kept a few from school yesterday. Miss Middie Carter and Albert May quit school last week.
Only two of our students went through the trying ordeal of telling what they know at the county examination Saturday.
Ollie Phillips, who has been teaching the Stanwood, is in school during vacation for a review. It would be a good thing for more of the Alumni to come and take a postgraduate course.
This term will be out in three weeks. Many who are not now in school ought to prepare to enter next term.
Teachers can get a good review. Small children who have never gone to school and those in the lower grades should enter the primary department, and place themselves under Miss Hadley's efficient instruction.
The following are the names of those who were perfect during the past month: Maggie Baldwin, Wm. Fisher, Lucy Steele, Rebecca Thorne, Anna Winslow.
Those neither absent nor tardy were: Willie Allen, Effie Bridges, Fred Brockett, F.H. Harris , Myrna Sharp, B.F. Haworth, Dollie Smith, Lucy Steele, Jesse Wilson, Pearlie Woodard, Allen Rice, ,Wilburn Worth, Aaron Mendenhall, Ward Marks, Arthur Noble and Agnes Prather.