Communities celebrating Independence Day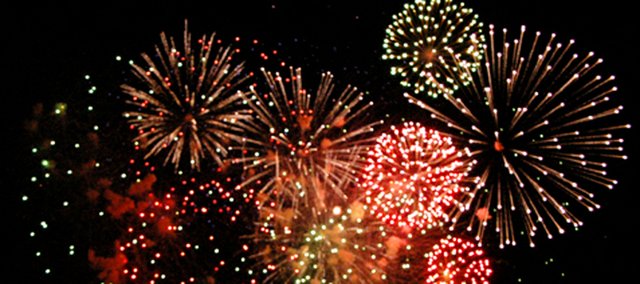 Fireworks stands dot U.S. Highway 24-40 in Tonganoxie.
Though the community doesn't have its own official Independence Day celebration, there is plenty of enthusiasm for the holiday with the many stands and, subsequently, the many residents shooting off fireworks for displays of their own.
Today, Wednesday, July 4, is the final day that fireworks can be lit in Tonganoxie. Per city ordinance, fireworks can be shot off 8 a.m.-11 p.m. June 30 through July 4.
If you still need to go shopping for the noisemakers, the many local stands that benefit varying organizations will still be selling throughout the day.
If you are going to set off your own fireworks, here are some helpful tips, as posted on the city of Tonganoxie website, tonganoxie.org:
• Always read and follow label instructions
• Always purchase high quality fireworks from a reliable, legitimate source
• Alcohol and fireworks don't mix. Have a "designated shooter."
• Have a source of water handy in case of fire
• Never allow young children to handle fireworks
• Older children should use fireworks only under close supervision
• Light fireworks outdoors in a clear area away from onlookers, houses, and flammable materials
• Light one device at a time; maintain a safe distance after lighting
• Do not allow any running or horseplay while fireworks are being used
• Never ignite devices in a container
• Do not try to relight or handle malfunctioning fireworks; soak them with water and discard them safely
• Keep a bucket of water nearby to fully extinguish fireworks that don't go off in case of fire
Basehor festivities
This year's Basehor Independence Day Celebration will start with food trucks serving starting at 6:30 p.m. outside Basehor-Linwood High School.
The patriotic parade starts at 7:30 p.m. and runs from 155th Street and Leavenworth Road to the high school. This year's grand marshal is Debbie Earnheart.
The fireworks show is set to start about 9 p.m. at BLHS, with donations being accepted at the gate.
McLouth festivities
McLouth's Fourth of July Fireworks Display will begin at dusk (approximately 9:30 p.m.) today.
The best viewing will be from the Stan Braksick Sports Complex, sitting in the bleachers, looking east toward Rose Park.
No personal fireworks are allowed.
McLouth Recreation Commission, city of McLouth and McLouth Fire Department are sponsoring the event.