Tonganoxie High soccer looks for deeper postseason run after historic year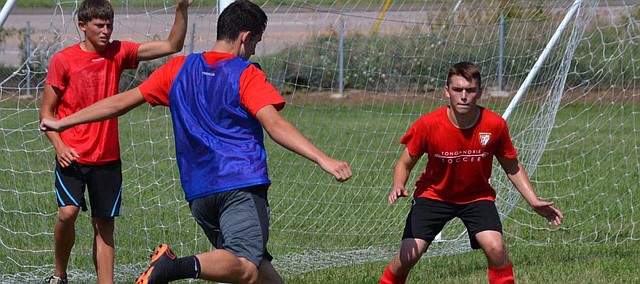 Last year's season-ending loss still lingers with the Tonganoxie boys soccer team.
It has been several months since a 4-2 defeat to Rose Hill in the quarterfinals, but the team won't forget the feeling from that night anytime soon. The Chieftains, who stormed through an undefeated regular season, are determined to avenge the finish from last year.
"It's almost like a redemption tour," coach Jon Orndorff said. "We shouldn't have lost last year. We finally had one bad game, it just happened to be in the quarterfinals. This year, they are geared up and willing to learn even more than last year."
But Tonganoxie will lean on a new cast to return to the state tournament for the first time since 2016.
The Chieftains lost 11 seniors from last year's squad, which went 16-1-2 to capture a second straight regional title. The 16 wins matched the most in program history, including postseason victories over Eudora and Maranatha Christian.
"Last year, we didn't make it as far as we wanted to," senior midfielder Matt Perich said. "We choked. We are building a program and making progress as we go along."
Perich is a key part of another large senior class, which features five players with varsity experience.
The lack of experience has enhanced competition this summer, as a multitude of players are vying for a chance to see the field. Most of the players competing for spots, however, have been in the system for multiple seasons. And they have made great strides since joining the program.
"I was worried about all the talent we lost," senior midfielder Jared Bothwell said. "I'm impressed with some of the younger kids that have improved quite a bit since their freshman year. I think we will be pretty solid."
Due to the roster turnover, Orndorff believes it may take a handful of games for the Chieftains to gel.
Yet, in 2017, the team had to overcome growing pains during Orndorff's first year as the coach. Orndorff, who replaced longtime THS coach Brian Kroll, did things differently in his rookie season and had to gain the trust of his players on the fly.
"It was really rough at first," senior goalie Wyatt Marin said. "He taught me a different way, but then I found myself getting better in the goal."
Orndorff plans to emphasize a different concept this fall.
Last season, the Chieftains had a distinct advantage in speed over opposing teams. They often hit the ball to the corner, and let their forwards get to the ball first. This year, however, Tonganoxie will focus on more ball control and wait for the right moment to attack a defense.
The emphasis on possession will likely help Tonganoxie avoid getting beat over the top, as well, which was detrimental in the team's lone loss. Senior center back Kiowa Witt, who was sidelined with an injury during the second half of the season, believes the new philosophy will help the team get back to the biggest stage.
"We are going to be pretty good this year," Witt said. "(Last year) was tough. I wanted to be out there for that loss. Defensively, we let up a few goals that I don't think we should have. We will get it back this year."