Shawnee resident,
KU

alumnus Rory Ramsdell makes "Mini Allen Fieldhouse" out of new garage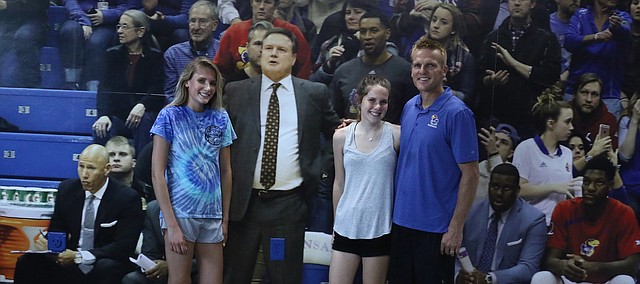 Shawnee resident and University of Kansas alumnus Rory Ramsdell spent his fair share of time at Hoglund Ballpark as a pitcher on the KU baseball team, but his love for KU went far beyond the baseball diamond.
One other KU athletic facility that Ramsdell considered to be a home away from home was Allen Fieldhouse. Ramsdell rarely misses attending any KU home basketball games, and now that he has completed a two-year long project, he can watch the Jayhawk road tilts on television and still have memories of Allen Fieldhouse surrounding him.
Rory had planned to build a garage to accommodate for parking space for his daughters — Raegan and Bailey Ramsdell — as they started driving, but he wanted to get more use of it. The 1993 KU graduate put his college memories into motion again by turning the garage into a mini Allen Fieldhouse.
"A lot of dreaming, going to the games and figuring out how I can incorporate a certain feature of Allen Fieldhouse into this," Rory said. "Just kind of designing it out and as I'm building it, I'm sitting around looking and going, 'Ooo, I can incorporate that feature into the design.'"
The Rock Chalk- filled structure includes a television in one of the corners for Rory, his wife — Renetta Ramsdell, Raegan, Bailey and their extended family and friends to watch games. Whether or not the Jayhawks are playing, the Ramsdells enjoy playing some hoops inside of the garage.
"It's functional and wired up to become a wood-working shop or a metal shop. I haven't used it like that to this point," Rory said. "Right now it's just used for when my girls' friends come over and there's basketball games like 2-on-2 or 3-on-3 late into the evening. It's a great joy of mine to watch all of the kids out there playing in it."
Whenever someone hoists up a shot, they're doing so with a background photo of the KU student section covering a large portion of the back wall. The sidewalls feature two larger photos — one of which includes a bench photo of KU men's basketball coach Bill Self; assistants Norm Roberts, Kurtis Townsend and Norm Roberts; director of student-athlete development Fred Quartlebaum; director of basketball operations Brennan Bechard and players Lagerald Vick, Silvio De Sousa, Marcus Garrett, Sam Cunliffe and Clay Young. Former Kansas standout forward Wayne Simien is standing right over Self's shoulder in the first row.
The photos on the walls were taken by Rory at KU basketball games with his camera. Rory had them processed on a 64-inch large-plot printer at GoCreate in Wichita to align the walls of the garage. The Shawnee resident is proudly known at GoCreate as "The KU guy."
"It's been a fun project," Rory said. "It's just a lot of passion poured into it. If there is some way to share that passion with others, I'm all for it. I welcome anybody that wants to come by and see it and enjoy it."
Rory's favorite feature of his creation is right above the garage door. The KU fanatic constructed a scoreboard that also includes more photos. Rory enjoys entering in the scores of each KU win on his laptop and syncing it up to display on the scoreboard.
"During the KU games, there's one of those moments where you sit there and you're at the game and they have the #KUfanpix. I thought, 'Well, I'm going to incorporate that into the design,'" Ramsdell said. "I was having a hard time trying to decide what I was going to put on the scoreboard, so I incorporated all of my family pics into the scoreboard. You can see all of the different pictures of the girls going to the games and myself and my dad and everything."
The family man that Rory is also built lockers in the corners in two of the corners — Rory and Renetta share one, and Raegan and Bailey have the other — that are designed like the ones for the KU basketball team. Bailey, Raegan and Renetta are a part of Rory's favorite memory involving KU basketball, and it's still fairly fresh on his mind.
"Probably the most recent one would be going to the Final Four this year with the family. It was just spur of the moment," Rory said. "We said, 'Let's go.' We had no hotel, no tickets or anything. We just went and enjoyed the weekend. The results weren't favorable, but it was a great family experience."
Rory is looking forward to making a few more visits to Lawrence over the next four years since Raegan — a De Soto alumna — will be a freshman at KU in the fall. Rory, who earned his degree in mechanical engineering, is hopeful that Raegan's experience as an undergrad at KU will be every bit as positive as his was.
"I made a lot of great friends and got to see all the aspects of college life. I had a wonderful experience," Rory said. "I still network with a lot of KU alums and I go down there for a lot of games — women's basketball, men's basketball, football, baseball, soccer. You name it, I'm down there."
Just like Raegan and Bailey, Rory grew up as a big KU fan in the Kansas City metro area. After graduating from Shawnee Mission West, Rory first took his talents to play baseball at Johnson County Community College before moving on to KU.
Along with becoming close with his KU baseball teammates, he was able to bond with some of the basketball players after transferring to Kansas. When Rory went to KU in the early 1990s, the KU baseball team's locker room was located inside of Allen Fieldhouse.
"I spent a lot of time in Allen Fieldhouse shagging balls for the basketball players," Rory said. "One of my jobs was I did the team laundry, so I was there not only for baseball games and just the regular locker room morale, but I was in there doing my student work afterwards late into the night — midnight, 1 a.m."
The early 1990s were some successful years for the Kansas baseball and basketball teams. The Kansas basketball team made Final Four trips in 1991 and 1993. The 1993 Kansas baseball team made the lone College World Series appearance in school history, but Rory was a fifth-year senior and not on the squad.
The Final Four appearances for the KU men's basketball team in 1991 and 1993 are commemorated in the Ramsdells' garage that hang from the ceiling just like they do in Allen Fieldhouse. Rory designed Final Four and conference championships to hang from the ceiling, while the 1922, 1923, 1952, 1988 and 2008 national title banners are positioned above the goal on the back wall. The banners were the most time-consuming element to make of Rory's beloved structure.
"The banners were all hand-cut and sewn, so it was tedious and took a long time," Rory said.
Rory hasn't hung the banner for the Jayhawks' 2018 Final Four berth or updated the Big 12 banner with KU's 2018 conference title, but there is a reason why he hasn't done so yet. The diehard KU fan is hopeful that Self and/ or a few players of the team might be able to make a trip to his Shawnee residence in the near future to see the mini Allen Fieldhouse and have a special celebration while they are there.
"We haven't had any luck yet," Rory said. "We went to the Frank Mason softball fundraiser and the girls were trying to connect to the players and get him to come out afterwards, but we haven't had any luck. I think that would be my ultimate dream is to get some players out here and maybe unveil the 2018 Final Four banner."