Agribusiness accolades: Grinter Farms featured in Country LIving; Next to Nature Farms in 435 Magazine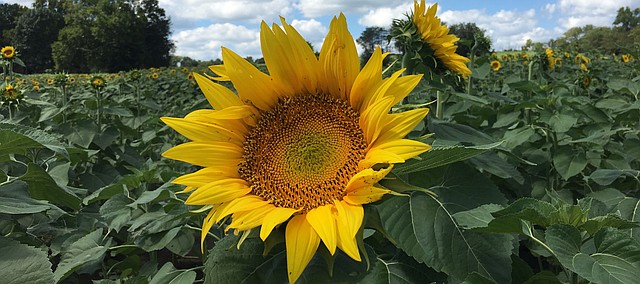 Two Tonganoxie farms are gaining more notoriety near and far.
Grinter Farms, known globally for their sunflower fields, have been named the No. 2 best sunflower field in the country.
Country Living magazine, in a July 2 story, named the farm to its list.
Next to Nature Farms, meanwhile recently was featured in 435 Magazine, which is a Kansas City publication.
Grinter Farms
Country Living's Jessica Leigh Mattern had this to say about the local sunflower field in her list of top acreages:
"Grinter's Sunflower Farm, which is free to visit, packs countless blooms in late August through September. Be sure to bring sharp shears with you when you visit this Lawrence farm, so you can cut your very own flowers through their honor system, which asks that visitors leave $1 for every flower they take home."
The farm, which has become a growing tourist attraction, has spurred efforts in Tonganoxie to capture those many visitors to the area. Tonganoxie offered its first Sunflower Stroll in 2017 and will have a larger version coming up Labor Day Weekend to complement the sunflower fields.
Country Living tabbed a Peach State farm for its top sunflower field.
According to Mattern, the Anderson Sunflower Farm in Cumming, Ga., is the place to be.
"Head to the Anderson Sunflower Farm in Cumming, Georgia for a day of outdoor fun. This pet-friendly destination is the perfect place to bring your pup for a picnic. While you're there, you can purchase freshly picked flowers, local honey and other fresh treats."
The Grinters also have additional offerings, as baked goods, jams, crafts and more can be found at Kris Grinter's Sunflower General store not far from the fields. Husband Ted oversees the planting and Kris the mercantile, which is in a house down the road from the fields that also gets quite busy come sunflower time.
Other fields making the list criss-crossed the country: Ohio, New Jersey, Hawaii, Illinois, Maryland, Pennsylvania, Colorado, Alabama, New York (2), Florida, California, Wisconsin, Virginia, Massachusetts, New Hampshire, Connecticut, North Carolina (2), Tennessee and Minnesota.
Georgia had two fields on the list and, of course Grinter Farms wasn't alone in the Sunflower State.
The other is in Lyndon, which is south of Topeka on U.S. Highway 75.
The Lyndon Leader 4-H Sunflowers are "organized and managed by the local Lyndon Leaders 4H Club," according to Mattern. "This sunflower field in Lyndon, Kansas is open to visitors for photos and flower picking.
Donations are accepted on site and are often donated to local charities, making this attraction well worth the visit."
To see the full list, go to countryliving.com.
Next to Nature Farm
This month's 435 Magazine features a story called "The Business of Bees," which profiles Next to Nature Farm, a local operation just northwest of Tonganoxie.
The farm, established in 2008, offers honey for food consumption, honey-based skin care products, fruit (apples, peaches, plums and pears) and eggs.
Owner Chad Gilliland, an avid beekeeper, and his family have taken a "chemical-free" approach to their farm, as they do not use pesticides and rely on sticky traps and other means to combat insects.
According to Sherry Kuehl's story about the farm in her 435 Magazine feature, the Gillilands launched their Next to Nature line of skin products for the first time after extensive research between Chad and his wife.
Current best-sellers, according to the story, are the Comfrey Salve, Healing Salve and lotion bars.
"My wife and I did a ton of research on the medicinal and healing properties of natural herbs and essential oils," Gilliland said in the 435 story. "We spent countless hours making sure that each and every ingredient component would work well and offer the specific medicinal properties we desired as well as the right natural moisturizing ingredient components that would complement the recipe."
After Friday's Tonganoxie Business Association meeting, Gilliland told The Mirror that his family stays pretty busy throughout the year with selling at markets and other events. He also hopes to eventually open a store at the farm.
To read the 435 story, visit 435mag.com.